Another World Series of Poker is in the books, and the 2019 WSOP was the biggest yet. The 90 events on the schedule were the most the WSOP has ever had. From those, 187,298 entries were tallied and $293,183,345 in prize money was generated – both record numbers for the WSOP. Also setting records were the nine WSOP.com online gold bracelet events in 2019.
The 2019 WSOP included nine online events, taking place on WSOP.com and including players from Nevada and New Jersey through the Multi-State Internet Gaming Agreement. Nine was the most online gold bracelet events held on WSOP.com to date, up more than double the four online gold bracelet events in 2018.
2019 WSOP.com Online Bracelet Events
| EVENT | ENTRIES | PRIZE POOL | WINNER | PRIZE |
| --- | --- | --- | --- | --- |
| $400 NL | 2,825 | $1,017,000 | Yong 'LuckySpewy1' Kwon | $165,263 |
| $600 6-Max PLO | 1,216 | $656,640 | Josh 'loofa' Pollock | $139,740 |
| $600 NL Knockout | 1,224 | $673,200 | Upeshka 'gomezhamburg' De Silva | $98,262 |
| $500 NL Turbo Deepstack | 1,767 | $795,180 | Dan 'centrefieldr' Lupo | $145,273 |
| $1,000 NL Double Stack | 1,333 | $1,266,350 | Jason 'TheBigGift' Gooch | $241,492 |
| $1,000 NL Championship | 1,750 | $1,662,500 | Nicholas 'Illari' Baris | $303,738 |
| $3,200 NL High Roller | 593 | $1,802,720 | Brandon 'DrOctagon' Adams | $411,561 |
| $800 6-Max NL | 1,560 | $1,170,000 | Shawn 'bucky21' Buchanan | $223,119 |
| $500 NL Summer Saver | 1,859 | $836,550 | Taylor 'Galactar' Paur | $149,240 |
Number of Online Bracelet Events Per Year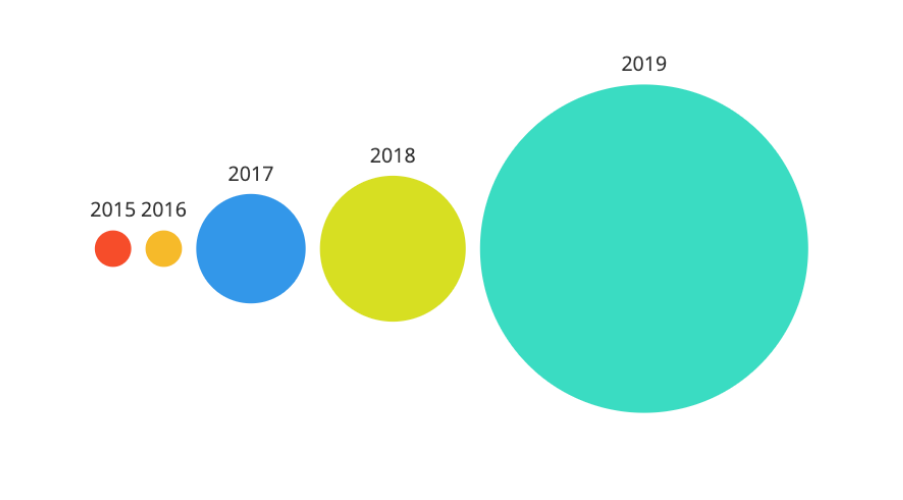 The first gold bracelet event held on WSOP.com took place in 2015. In 2015 and 2016, one online bracelet tournament took place as part of the World Series of Poker. In 2017, the WSOP had three online bracelet events. In 2018, organizers bumped it up to four. Also in 2018, players in New Jersey were eligible to compete in the WSOP.com online gold bracelet events due to the multi-state agreement.
The nine online gold bracelet events in 2019 were quite the uptick from the year before, making it quite evident that the WSOP and WSOP.com are very happy with the performance of these events over the years. Ahead of the 2019 WSOP, there was a cloud hanging over the online gold bracelet events due to a new Department of Justice opinion on the Wire Act, but that was squashed with the early-June conclusion from Judge Paul Barbadoro of the US District Court. Barbadoro concluded that the Wire Act only applied to sports betting and it was a full-go across Nevada and New Jersey for WSOP.com online bracelets.
Looking ahead to 2020, we could very likely see another increase in the amount of online gold bracelet events. First and foremost, Pennsylvania online poker should be fully underway by this time. If the Keystone State is able to join interstate player pooling, WSOP.com will have access to a greater number of players who have even more of an appetite for online action. WSOP.com is partnered with Harrah's Philadelphia for PA online poker.
Second, it's become heavily apparent that the WSOP wants more and more every year, whether it be more total bracelet events, more entries, more prize pool dollars, or more online bracelet events. With 90 gold bracelet events on the schedule in 2019, the WSOP is only 10 away from hitting triple digits and 100 gold bracelet tournaments could be the company's marketing push for 2020. The WSOP could drop one live tournament from its schedule to go to 89 and add 11 online events to hit the magic number of 100. This would also give the WSOP 20 online gold bracelet events in 2020, which is another layup marketing message.
Entries Per Year in Online Bracelet Events
The nine online gold bracelet tournaments in 2019 generated a total of 14,127 entries, a 123.9% increase over 2018. In fact, the amount of entries generated from online gold bracelet events in 2019 was more than the previous four years combined (14,127 versus 12,707).
The largest turnout for a 2019 online bracelet event was the first one held, the $400 No Limit Hold'em tournament. It attracted 2,825 entries and became the second largest online gold bracelet event ever. The record still stands at 2,972 entries from the $365 No Limit Hold'em only event in 2018.
Prize Pools Per Year in Online Bracelet Events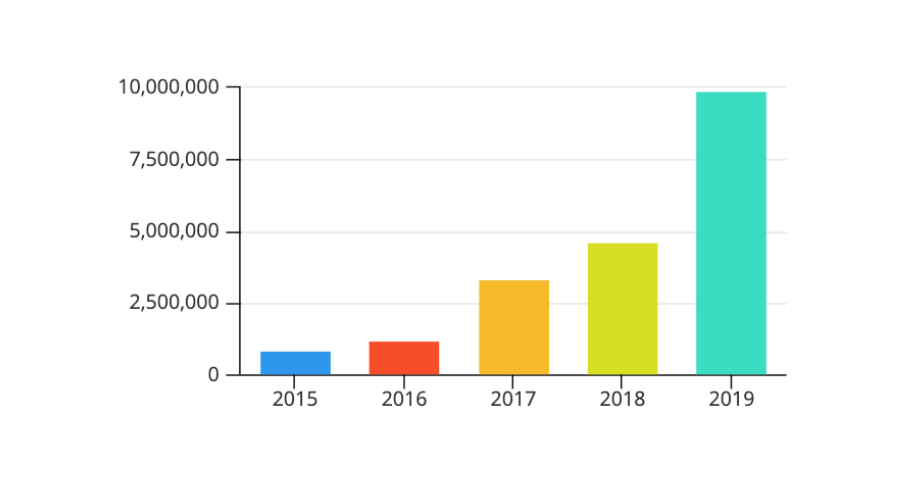 In 2019, the WSOP.com online bracelet events generated $9,880,140 in prize money. That is also a record-setting figure, blowing the previous record of $4,623,226 out of the water.
The 2019 WSOP.com $3,200 No Limit Hold'em High Roller had a field of 593 entries to build a record-breaking prize pool of $1,802,720. That is the single largest prize pool for an online gold bracelet event and the biggest ever prize pool in regulated US online poker history. In fact, the WSOP.com online bracelet events in 2019 set a new record twice for largest online tournament prize pool in the regulated United States online poker history. The $1,662,500 prize pool from the 2019 $1,000 No Limit Hold'em Online Championship broke the record on June 30 and was then topped less than a week later on July 3 when the $3,200 No Limit Hold'em High Roller produced a larger prize pool.
Prior to 2019, the record for the largest prize pool in US-regulated online poker history belonged to the 2018 WSOP $1,000 No Limit Hold'em Online Championship with a prize pool of $1,553,250.