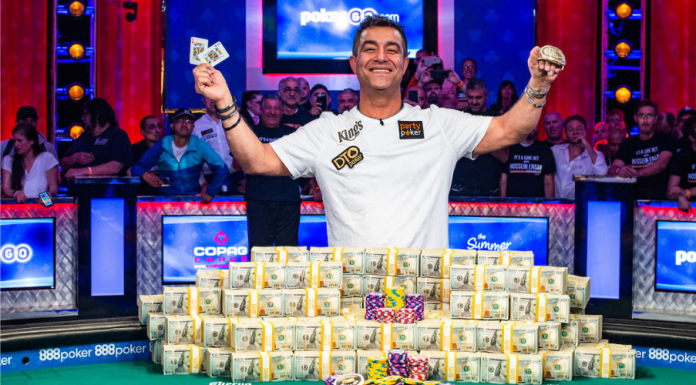 As 2019 draws to a close, PocketFives takes a look back at the year that was in poker news, going month-by-month through the biggest and most important stories of the year. When July comes around, the focus of the entire poker world turns to the most prestigious poker tournament of the year, the World Series of Poker Main Event and 2019 was no different – for a number of reasons.
This WAS the Main Event!
"This is the best feeling that I've had in all my life and my entire career. I am so happy I am here with the bracelet in my hand. What can I say? What can I say?"
That was what 55-year-old Hossein Ensan had to say moments after winning the 2019 World Series of Poker Main Event for $10 million.
Ensan defeated Dario Sammartino heads-up to finish off the three-day final table coverage on ESPN and PokerGO. Sammartino walked away with a $6 million score.
2019 WSOP Main Event Final Table Results
Hossein Ensan – $10,000,000
Dario Sammartino – $6,000,000
Alex Livingston – $4,000,000
Garry Gates – $3,000,000
Kevin Maahs – $2,200,000
Zhen Cai – $1,850,000
Nick Marchington – $1,525,000
Timothy Su – $1,250,000
Milos Skrbic – $1,000,000
Massive Turnout Leads to Near-Record Field
Ensan's win earned him just the third $10M+ score in Main Event history because 8,569 players made the 2019 Main Event the second-largest one of all-time.
As the close of registration crept closer on July 7, tournament organizers were hoping for a last-minute rush of entrants that would allow it to surpass the 8,773-player field from the 2006 Main Event. The 344 players who did register on Day 2C pushed the total registrants past 8,000 for just the second time ever and helped create an 8.83% growth over the 2018 field.
| | | |
| --- | --- | --- |
| Flight | Entries | % of Field |
| 1A | 1,334 | 15.57% |
| 1B | 1914 | 22.34% |
| 1C | 4877 | 56.91% |
| 2AB | 100 | 1.17% |
| 2C | 344 | 4.01% |
"Truly an incredible cherry on top of a wonderful 50th World Series of Poker," Seth Palansky, Vice President of Corporate Communication for Caesars Entertainment, said. "The numbers this summer speak for themselves. Poker is alive and well and we can't thank the players enough for continuing to support the World Series of Poker brand. Seeing an eight as the first number of the Main Event really did seem unfathomable with the majority of the U.S. shutout from playing the game online. But the WSOP Main Event has always been special and we're incredibly grateful for those that came from six different continents to participate in this year's Main Event."
Player Disqualifications Steal Headlines
The 4,877 players that packed the Rio on Day 1C almost guaranteed that things wouldn't go smoothly for tournament staff, but none of them would have predicted the chaos that ensued and eventually lead to two players being disqualified.
The first instance involved a player, later identified as Georgii Belianin, moving chips from another player's stack into his own.
Belianin admitted to being intoxicated and believes that a language barrier may have played a role in the disqualification as he claimed he was joking around with tablemates. Belianin took responsibility for his actions.
I was up all night playing and drinking in cash games in Rio. By the time I realized what time it is, I decided to go register into main event. I don't remember much, I really did not want to cheat nobody, just a stupid drunk joke which landed me a night in jail for trespass.

— BelianinG (@GBelianin) July 7, 2019
The second disqualification ended up being much more serious and involved the eventual disqualification of Ken Strauss. Here's how PocketFives detailed the action at the time:
According to those in the area, the player was all in blind and began yelling while standing next to the table, causing quite a scene. The player proceeded to pull down his shorts with his back facing the table and yell some more.
Patrick Eskandar, who was involved in the hand, informed PocketFives that the all-in player had actually moved all in blind before any of the cards were dealt. According to Eskandar, once the cards were dealt out, the all-in player also briefly exposed his cards to reveal queen-three. A player to act before the all-in player, received a ruling and was informed that the all-in bet would stand if no raise was made ahead of the all-in player. This player then limped in forcing the blind all-in bet to stand.
Action moved to Eskandar and he thought over his decision but told PocketFives that he was more concerned with the limper than the blind shove. He knew the player who shoved blind had queen-three, but, due to the ruling, felt the player who limped could be trapping. While Eskandar was thinking, the player who was all-in blind removed his shoes and socks and even threw a shoe towards Eskandar, with the shoe landing in the dealer tray. Eskandar then folded his hand, which was pocket fives.
The player who limped exposed his hand to show that he had ace-three, which dominated the all-in player's queen-three. Much to the surprise of Eskandar and those in the area who were watching, he didn't expose his hand as a call. He folded his hand face up. This allowed the all-in player to win the blinds and antes before he was disqualified and promptly removed from the tournament and property.
Just happened at the WSOP Main Event. (Drunk?) dude all in blind preflop (full stack) level one. Tables his hand early. Takes shoe off and throws it at a dealer / player in the tank.

Who throws a shoe?
(Hilarious, but not great for the game…)

🤷🏻‍♂️🤷🏻‍♂️ cc @RemkoRinkema @Kevmath pic.twitter.com/PHMf6dI4aZ

— Ian Chan (@chanian) July 5, 2019
Strauss even went as far as to expose himself to the table before being removed forcibly from the Rio.
"While these incidents are unfortunate, they do happen every year," WSOP officials told PocketFives. "We disqualify players who violate rules and in the case of the individual who stole another players chips, he's lost the privilege of playing at the WSOP in the future, too. We have zero tolerance for theft of any kind."
In the weeks that followed, more details about Strauss' behaviour that day, which also included him exposing himself once more at another Las Vegas casino, became apparent as he was charged with domestic terrorism.
Negreanu Details WSOP Winnings
Before the start of the 2019 WSOP, Daniel Negreanu offered poker fans the opportunity to buy a piece of his WSOP action. In an effort to be as transparent as possible, Negreanu published a complete balance sheet following the conclusion of the 2019 WSOP summer events.
Negreanu made $2,042,752.92 during the summer, showing a 168.78% return-on-investment for those who were fortunate enough to secure a piece of the two-time WSOP Player of the Year winner. That came from 16 cashes and $760,000 worth of tournament buy-uns.
The net return for his investors was $481,026.82 after all fees were removed.