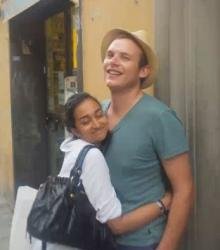 To open 2015, a field of 3,181 entrants descended on the PokerStars Sunday Warm-Up. When all was said and done, Stevan random.chu Chew (pictured) from Adelaide, Australia came away with $74,000 after bowing out in second place. It was his largest online poker score ever and helped grow his lifetime total to over $2.2 million.

PocketFives: Congrats on your second place finish in the Sunday Warm-Up. Tell us how you're feeling about it.
Stevan Chew: Relieved. I've had a ridiculous number of Sunday runs in the last couple of months, but haven't been able to convert them into anything decent, so it was nice to be able to put a solid score on the board.
PocketFives: Members of PocketFives finished in the top four spots that week in the Warm-Up. Which of them gave you the toughest time and why?
Stevan Chew: It would have to be vip25459, who won. The way the stacks set up at the final table, five or six of them were very similar, so he was able to exert a lot of ICM pressure and put people in tricky spots for big chunks of money. I had Kungfumonkon my immediate left and got to watch him hit miracle card after miracle card to stay alive, so I was kind of fretting him accumulating a stack, but luckily for me, it didn't happen.
PocketFives: Do you have any plans for the cash?
Stevan Chew: I'll be sensible knowing I'll incur losses at some stage, which it can offset. I'm at the Aussie Millions to play a full live schedule and, having already satellited into the Main Event and another side event, the rest of the buy-ins are now paid. I'll also devote a chunk of the money to battling my way in the $200 and $300 Heads-Up Hyper-Turbos. I've devoted a lot more of my time recently to the heads-up format.
PocketFives: Talk about the atmosphere at the Aussie Millions, which is in your home country.
Stevan Chew: I do the Aussie Millions every year. It's a great series and the schedule is always fun. I don't play too much live poker during the year other than the occasional APPT and ANZPT stop, so to go to Melbourne for a couple of weeks and play a lot of live poker is a nice change of pace from the online grind. It's also great to catch up with poker friends face-to-face for dinner or drinks.
I haven't really done many other big series like the WSOP. The withholding tax they charge makes the events unplayable. I'd love to travel the EPT circuit, but I have commitments back home and can't really get up and leave for six months. My girlfriend would be pissed.
PocketFives: What else do you do besides poker?
Stevan Chew: Watch television with the girlfriend, hang out with friends, and have fun. I play Aussie rules football during the winter and that's a lot of fun. I also do a touch of university here and there, but I've been deferring and skipping so regularly that I'm kind of worried they're going to kick me out soon.
PocketFives: How competitive is the Aussie rules football you play?
Stevan Chew: It's for fun mainly. I play for Adelaide University. We won a premiership in 2013 and that was one of the most rewarding things I've ever been involved in.
PocketFives: How long have you been playing poker full-time?
Stevan Chew: Four or five years now. Playing MTTs full-time can be a really tough proposition for those grinding in Australian time zones. During the summer, 3:00am starts every day can wear thin very fast. These days, I only play on Mondays and throw in the occasional midweek MTT session when I'm feeling it. During the week, I'll grind heads-up sit and gos and play some satellites in the evening.
PocketFives: Have you ever thought of moving somewhere else that has a better schedule?
Stevan Chew: Why would I ever want to leave? Australia is great. I'd love to get a place with a bunch of friends overseas for a while as an experience, but I don't want to move somewhere just to maximize my poker schedule. I'd miss my family and friends too much.
PocketFives: Is there anything else you'd like to add?
Stevan Chew: Shout out to my homies GINS FINEST, mjw006, and bennybunny18. I also do some MTT coaching on the side. Holler if you're interested.
Want the latest poker headlines and interviews? Follow PocketFives on Twitterand Like PocketFives on Facebook. You can also subscribe to our RSS feed.