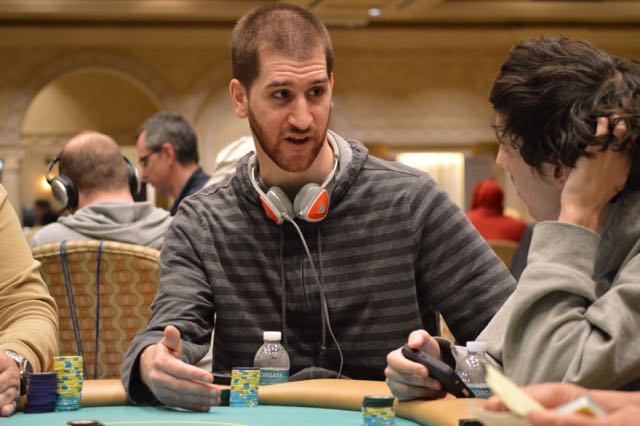 The first full week of the 2017 World Series of Poker is in the books and the wave of thousands who took their shot in the Colossus have come and gone from the Amazon Room. New Jersey's Mike Azzaro was among that group of hopefuls and he fired five times in pursuit of millionaire glory. Despite the volume put in, Azzaro came away with just a single min-cash to show for his efforts.
Azzaro's expectations were tempered coming into the event and he was realistic about his chances knowing how much of a crapshoot the event is.
"My expectations weren't too high for the Colossus. 20,000 players and a shitty structure all I can do is put the chips in and pray."
His prayers may not have been answered during Colossus and they have yet to reach a higher calling during the first couple of events Azzaro has played in.
In his second week of the summer, Azzaro is still yet to make a Day 2 of a bracelet event. Azzaro played three $1,500 buy-ins over the last few days but hasn't found the bag just yet at the Rio. He made Day 2 of the Venetian $400K but busted short of the money there as well.
Thankfully for Azzaro, there is plenty of time for him to get his summer back on track but not before he takes his first break away from the felt. Electric Daisy Carnival weekend is on the immediate horizon in Las Vegas and many of the players in town for the series will be making their way over to the Las Vegas Motor Speedway for three nights of electronic music bliss.
Azzaro will be in attendance and hopes that the time away will clear his head for the next part of the summer.
"EDC is halftime for my WSOP. I unwind for the weekend have a blast and don't think about poker at all. Come back for the second half and looking to finish strong."
When Azzaro returns from his three days of ecstasy, the Monster Stack will be the first major event on the schedule. The $1,500 event will put together another first place prize of over $1,000,000 and perhaps this is the one that Azzaro makes his first deep run of the summer in.
Azzaro knows it's a long grind before the finish line hits in mid-July and there is a long line of events waiting for him. Once the first opportunity comes, Azzaro will be bound to strike.
"The thing I have to remind myself about every summer is that it's a long summer and there are a ton of events. Take your time don't panic and have fun."