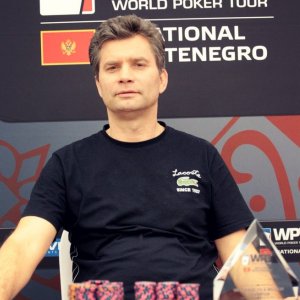 On Thursday, Twitter erupted over allegations that Valeriu Coca (pictured) may have cheated during the World Series of Poker's $10,000 Heads-Up No Limit Hold'em event. Connor blanconegroDrinan spoke on behalf of several players charging that Coca was possibly using invisible ink to mark the cards while wearing special sunglasses that would allow him to see it.

—
Tournament Poker Edgeis the only poker training site dedicated exclusively to MTTs and features over 1,000 training videos, blogs, articles, podcasts and a dedicated strategy forum for members. Check Tournament Poker Edge out on Twitter.
—
WSOP's Seth Palansky revealed on Thursday that preliminary testing of the cards found nothing out of the ordinary.
Meanwhile, PokerNewscaught up with Coca, who is apparently still in Las Vegas and playing at the WSOP. Coca told the site, "This is a fantasy. The players who lost are very good, so they just don't believe they could lose to me for an honest reason."
Contrary to reports, Coca told PokerNews that he, in fact, has received his $54,000 in prize money. Word on the street was that the payout was withheld pending an investigation.
Coca added, "I don't even know how they think this is possible. I have no way of marking cards or any other tricks… This is not gentlemanly, to lose and cry foul. They are not gentlemen. They lose and they think they must have been cheated. They are just looking for a way to explain why such strong players would lose to a much weaker one."
Palansky told PocketFives on Friday, "The investigation is ongoing and it has no timetable attached to it. When we've completed the investigation, we'll update the public/media on the results."
What really happened, if anything, remains to be seen. WSOP Tournament Director Jack Effel(pictured) posted on Twitter on Thursday, "We take integrity very seriously, as evidenced by our lifetime bans, and would enjoy nothing more than catching a cheater in our midst."
As one poster on Two Plus Two put it, "The guy isn't a cheat as we know now. Also, enough time has gone by that the WSOP is aware of the decks, has access to the cameras, and nothing has turned up indicating he was cheating. That makes it really look like the 'young pros' are just sore losers here."
Posters on the forum showed close-up pictures of Coca's sunglasses, which appeared as if they could have had an embedded lens, but the blurriness of the images made them inconclusive.
We shall see. We'll keep you posted on the latest right here on PocketFives.
Want the latest poker headlines and interviews? Follow PocketFives on Twitterand Like PocketFives on Facebook.