After several delays, Joe "Chicago Joey" Ingram finally was able to bring poker pro Antonio Esfandiari (pictured) to his "Poker Life" podcast after the conclusion of the 2015 World Series of Poker. Over the span of roughly 45 minutes, the duo talked about a wide array of subjects that were poker and non-poker related.

The podcast got off to a fun start as Ingram joshed with Esfandiari, telling the audience that they had been trying to pull something together for "Poker Life" since December. "I didn't want to have to give you that $5,000 freeroll if I didn't show up this time," Esfandiari poked back at Ingram as they sat in the family room of Esfandiari's condo. After a bit more small talk, they broached a subject that has had the poker world buzzing of late.
A few episodes prior to Esfandiari's appearance, Ingram welcomed European poker pro Lex Veldhuis. On that program, Veldhuis talked about Esfandiari, in particular calling him out for being phony. Apparently, the situation dated back to dinner arrangements at a tournament nearly a decade ago and it seems that Veldhuis was still steamed about the situation.
Esfandiari spent far less time talking about the flap with Veldhuis, stating, "It was many years ago. I've kind of moved on since that time." After Ingram, who had a friendship with Veldhuis and admitted it to Esfandiari, spelled out the actual problem Veldhuis had, Esfandiari effectively ended the conversation by saying, "I really don't care what Lex thinks."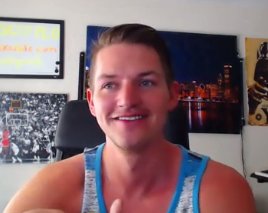 After those tense moments, the conversation between Esfandari and Ingram (pictured) lightened as the former talked about his early life. "When I was growing up, my home country (Iran) was involved in a war with Iraq," he said. "It was consistently nerve-wracking to have to deal with bombings on a daily basis, the fact that a home just down the street from you was destroyed and your house was still standing… My father took a huge chance getting our family out of Iran and I wake up every day glad to be in America."
Known for his hard-living lifestyle when he was younger, Esfandiari admitted that he didn't take poker as seriously in the past. "I wanted to enjoy my youth as much as possible, and I did," he said to Ingram. "I really didn't start to take poker seriously until about three years ago." Even though he may not live the "rock star" life that he used to, Esfandiari passed along several tips about how to do Las Vegas right ("the biggest tip I can pass along is always use a professional host to get things set up").
Almost as well-known as his partying life is Esfandiari's relationship with Phil Laak. "He's one guy who has made life fun," Esfandiari said about Laak as he regaled Ingram's audience with a particularly funny story about their show "I Bet You" and an Ambien challenge that never made it to the air. Esfandiari also revealed that Laak was the man who taught him about money management.
"We were in New York and I spent like $4,000 while we were there," Esfandiari said. "I only had about $3,000 more to my name and I said to Phil, 'I got to go home, I'm about out of money.' He said 'For the trip' and I replied 'No, altogether!" Esfandiari laughed. "You've spent more than 60% of what you're worth on this trip," Esfandiari remembered Laak (pictured) saying. "At that exact moment, Phil sat me down and taught me everything about money management."
Capping off the show was a visit from the aforementioned Laak, indicating that the friendship between the two is still strong. Laak showed off a video of lake surfing at Lake Mead, but Esfandiari joked that "no one cares about watching you surf on your cell phone."
The discussion between Esfandiari and Ingram may not be groundbreaking in its technical or strategic content, but it does feature a man who has become comfortable in the game as it has exploded over the past decade. The podcast can be found on iTunes or YouTube and is worth a look. Click here to watch it.
Want the latest poker headlines and interviews? Follow PocketFives on Twitterand Like PocketFives on Facebook.