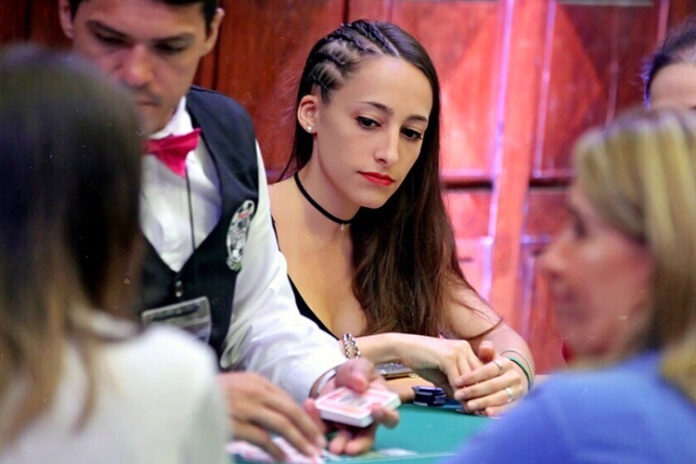 In honor of International Women's Day, PocketFives is shining the light on some of the women in poker who have made poker their lives and their careers and are an integral part of moving the game to new heights.
If you are a poker fan in Latin America, then there's a very good chance you are already very aware of Pamela 'Pamsi' Balzano, the 25-year old poker player and influencer from Buenos Aires, Argentina who dedicates almost all of her time and creativity to promote the game of poker.
Balzano, a part-time player and full-time content creator, has been heavily involved in the poker community for the better part of the past eight years. From back in 2014 when she used to take pictures of live events for poker news outlet Codigo Poker to hosting the final table of the 2021 partypoker MILLIONS Online Main Event, her passion for the game of poker, and the people who enjoy it, shines through in everything she does.
"My first time in a casino was for work, to take pictures. Then, three years later I started my YouTube channel with the idea of creating a new way to communicate poker. I really liked to explain to people who don't know about the game how it works, but in a funny way, a colorful way. A different way, because poker in the movies, everything is dark and that's not the truth about the game."
For Balzano, the game of poker isn't some moody mix of smoky backrooms or shady characters. It's always been entertaining, analytical, and even professional. A trait she picked up early from her brother.
"My brother is seven years older than me and he started playing when he was 18. He became a professional poker player very soon thereafter and then in my home, it was always hand analysis and hand reviews. And I was always there with him and his friends. That's where I became very interested in the game, because of him. Also, I really liked that he was always traveling around the world playing cards."
"So my idea was to follow his path, but doing something different because I really like art and to create things and, well, taking pictures."
After a few years of being involved in poker media, she wanted to reach more people. She started working on her own YouTube channel where she would speak with poker players, give tips to new players, create tournament vlogs, and produce popular "Draw My Life" videos for players like Stu Ungar, Adrian Mateos, Damian Salas, and Doyle Brunson – a video that has been seen well over 100,000 times. In the midst of working on her videos, she also began to work on her own game.
"I started with my YouTube channel and then I started to study the game more professionally, but I'm not a professional poker player. I like to play poker, I like to study poker and I really want to improve my game. So for the last two years, I've been studying a lot and playing more, but not full-time because I create content and communicate poker, that's my job."
Since that time, her job and profile in poker have been expanding. She's an active Twitch streamer, showcasing the results of her poker studies to her more than 9,000 followers and she's also been recruited by partypoker to anchor a number of online broadcasts for their Latin American viewers on the partypokerLATAM channel. It's clear though that, for Balzano, the time and dedication she puts into her myriad of poker content is truly a labor of love and the feedback she receives from her community motivates her to keep pushing forward.
"I love my community because I've found a lot of nice people who are always enjoying the game like me, they are always sending good vibes. I really like to share my work with people, and that's why I really like this job because I can share everything with a lot of nice people."
Next up for Balzano is a trip to Punta Cana in the Dominican Republic to cover and play in the upcoming Caribbean Latin Series of Poker Main Event. As both a player and a content creator for the event, she intends on bringing her "A" game both on and off the felt. It's one of the challenges she had faced in the world of poker, splitting her time between playing and presenting,
"It's difficult for me to decide if I prefer to play or if I prefer to create content because I love creating content and being in touch with people. But of course, I really like the game…I like to play," she said but also acknowledges that in order to keep things fresh she has to bring the total experience to her audience. "I think the main challenge is to be creative every day. To do things differently. The market is growing, every part of the market, and nowadays Twitch is growing a lot. I really like that, because I am a little bit competitive so I'm always trying to do things differently."
But those challenges are good ones to have. As the international poker market continues to grow, including in Argentina where Balzano says the game is "popular…but not very much" yet, her years of experience in all facets of the game are being allowed to shine. And as her community continues to grow so does her appreciation of the task at hand – bringing the game of poker into the spotlight.
"I'm doing the job of my dreams, achieving a lot of things. One of them is being the host of big-time tournaments, for example, the partypoker MILLIONS Online. Of course, it would be nice if I could do it live, but it's understandably difficult right now. But my main, main, main dream is to do commentary for the World Series of Poker Main Event or something like that. That would be nice."