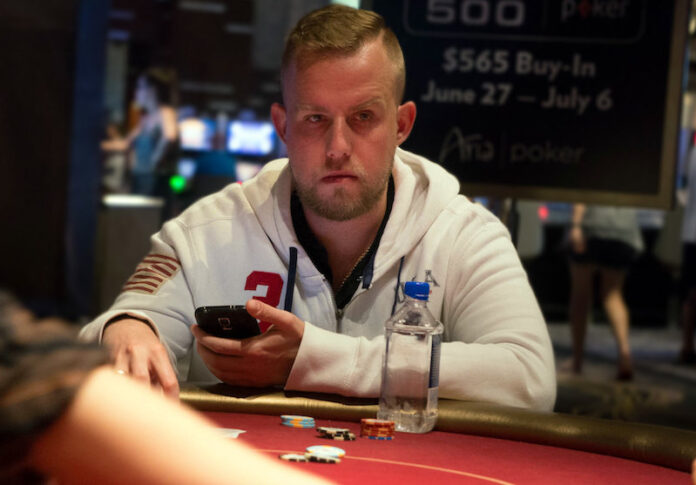 The first World Series of Poker Online bracelet on GGPoker of 2021 was won by Polish player Bartlomiej Swieboda, who came from the middle of the pack to win $161,111 in the $50 WSOP Online Event christened 'The Return'. Unlike the events on WSOP.com, this event was open to worldwide players, which saw seven different nationalities represented between the nine players who made the final table.
Heading into the final nine, it was Russian player Sergei Sitnikov who had the chip lead with a stack of 272 million chips dwarfing his nearest challenger Neville Costa (230 million). Brazilian player Matheus De Souza came into play with the second shortest stack, and he lost his stack first after moving all-in from the small blind with
. In a coinflip situation against Cuong Trinh, who had
, the board of
didn't allow De Souza back into contention, seeing him cash for $16,110.
That pot vaulted Trinh up the leaderboard into second place and just a few hands later, the Chinese player took the lead. That all changed after a monumental clash between Costa and Ivan Zablyakin, however. Costa, holding
, limped from the small blind and Zablyakin checked to the flop with
. That flop of
gave Costa a flush draw and Zablyakin the straight draw, leading to a bet from Costa, a raise from Zablyakin and a call from Costa to the
turn. On the turn, Zablyakin bet again, this time calling a huge move as Costa shoved with the flush draw. The river of
meant Zablyakin's straight survived, and Costa didn't, leaving the event in eighth place for $21,483.
It was still Zablyakin in charge by the time Sitnikov's seat was empty in seventh place for $28,649. Sitnikov had come into nine-handed play as the chip leader but was running short when he moved all-in for a little over 16 big blinds with
. Called by Trinh with
, the board of
never looked like helping the Russian player, who went from looking extremely likely to lock up a podium place when play began to missing out on the final six.
With Zablyakin and Trinh running over the table, everyone else was clinging on for dear life, and it wasn't long before another unlucky player found their grip loosened as they flew to the rail. Alexander Jung had come into the final table with the shortest stack, but his laddering continued one more hand after his initial raise leaving just one big blind behind saw fellow short-stack Matheus Santos, move all-in with
.
Trinh made the call with the dominating
and Jung got out of the way in a bid to leap a place. The flop of
kept Trinh ahead and the
turn changed nothing. Santos needed a king and only a king on the river, but although he saw paint, the
crushed his dreams of redemption and sent him out in sixth place for $38,204.
Jung lasted one more place, but he could climb no more rungs on the ladder. Jung tossed his last big blind into the middle with
and was called by the chip leader Zablyakin with
. Jung was hoping to hit, but sadly for him, his Russian opponent turned a three to oust him from the reckoning and leave Jung on the rail for a fifth-placed result worth $50,945.
Just four players remained and at that point, Zablyakin was in charge, holding 690 million to Trinh's 569 million, with both other players short-stacked on less than 160 million each. That situation changed dramatically after Trinh won a series of pots to close in on a billion chips at the expense of all three of his opponents, but most importantly for Russian fans, Zablyakin.
Losing a vital coinflip to double-up the eventual winner Swieboda, Zablyakin shoved with
and was called by Trinh with
. The flop of
put Trinh's hand into the lead but opened up the flush draw for Zablayakin. Unfortunately for him, the
turn and
river condemned him to a fourth-place finish worth $67,937.
One player who had been quiet throughout was Israeli player Eran Soffer, but with the blinds escalating and both other players having at least double his chips, Soffer couldn't wait any longer to get aggressive. He moved all-in pre-flop with
and was ahead of his caller, Trinh, who held
, but the exciting flop of
changed that. Moving ahead with top two-pair, Trinh needed to fade both straight and flush draws held by Soffer, but that he did across the
turn and
to go into heads up with a massive 4:1 chip lead.
Swieboda went into the final duel with nothing to lose as the massive underdog, and that showed in the early exchanges. Swieboda not only battled back but took the lead, in particular after counterfeiting Trinh's two-pair with a better two-pair on the river to move into a 2:1 lead. Swieboda held onto the lead with a dogged determination and when the final hand played out, had even extended his lead to more than 5:1.
Trinh was desperate to double back into the duel when he moved all-in with
on a flop of
, but Swieboda had the easiest call of his tournament with
and faded both the
turn and
river to scoop the pot and win his first-ever WSOP bracelet in style.
With a massive 30,810 Day 1 entries, thanks to 24,587 unique players and 6,223 rebuys, the prize pool grew to an incredible $1.4 million, far more than the $1 million guarantee.
By the start of Day 2, there were still 3,584 players in with a shout of winning the gold bracelet, but that number was whittled down to the Polish first-time bracelet winner, Swieboda. Having not cashed live since a trio of tournaments in Cyprus in 2019, the little-known Polish player won his maiden bracelet and a career-high score of $161,111.
WSOP Event #33 The Return Final Table Results:
Bartlomiej 'chester20o' Swieboda -$161,111
Cuong 'CLVT' Trinh – $120,810
Eran 'Ma_Yesh_Beze' Soffer – $90,595
Ivan 'GangstaZab' Zablyakin – $67,937
Alexander 'OMGWTF!!' Jung – $50,945
Matheus 'tio_ricco' Santos – $38,204
Sergey 'sit_boom777' Sitnikov – $28,649
Neville 'NevSlater' Costa – $21,483
Matheus 'durezabh' De souza – $16,110