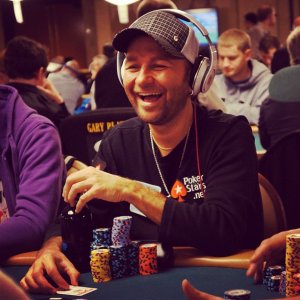 With the 2014 World Series of Poker nearly upon us, pros like Daniel Negreanu (pictured) and Phil Ivey have been busy drumming up their annual high-stakes side action. This year, Negreanu made a simple proposal open to anyone: an even-money bet that either he or Ivey will win a bracelet in one of the WSOP Las Vegas events.

Negreanu posted the offer on his Twitter account: "Min bet is $5k against me and Ivey winning a bracelet this summer and the odds are even money. One of us wins, you lose. Simple," he said.
The max bet? A million dollars.
Negreanu has a stellar record in WSOP tournaments, winning six bracelets and banking over $6 million in earnings. His first WSOP win came in 1998 when he took down a $2,000 Pot Limit Hold'em event for $169,460. Since then, he has topped the field in three more Las Vegas events, while taking first in two No Limit Hold'em events at WSOP APAC and WSOP Europe in 2013.
Ivey (pictured) has an equally impressive record at the WSOP, taking home nine bracelets along with $5.9 million in total event winnings. The 38-year-old won his first bracelet in a $2,500 Pot Limit Omaha event in 2000 for $195,000 and went on to win seven more in the Vegas series while scoring his latest at WSOP APAC in 2013.
That means that at least one of them has claimed a Vegas WSOP bracelet in eight of the last 15 years, leaving seven dry years between them. Willyoman on TwoPlusTwo pointed out the fact that the skill level of the competition has undoubtedly increased in the last few years. "From 2010 to 2013, over four World Series, when the games have been toughest, only one of them won one," he said. "Don't recall if Ivey sat out one of those years, but either way, I don't think it's even money."
For gamblers like Ivey and Negreanu, prop bets and the WSOP go hand-in-hand. When Ivey was close to winning his first Main Event title in 2009, it was rumored that the high-stakes pro would have made up to $6 million in side action alone had he taken first place.
With his confidence sky-high after securing two bracelets that year, Ivey was reportedly taking as much action as he could right up until the final table kicked off. In the end, he took seventh for $1.4 million. So far, a Las Vegas Main Event win has eluded the pair.
While Ivey is once again busy taking action, some believe that, due to his recent legal problems with Borgatain Atlantic City (pictured) and an ongoing issue with Crockfords in London, the pro might not even be allowed to participate in this year's Series.
"What I'm hearing [is that] Caesars/WSOP staff as of right now are saying Ivey can play, but there are ongoing discussions between higher-ups… that are seriously considering not allowing Ivey to play or step foot on Caesars Entertainment properties until this Borgata mess is cleared up," said poster trotter.
However, Caesars' Seth Palansky told PocketFives in an exclusive statement that any talk of Ivey being barred from this year's WSOP was purely fictional: "IveyPoker has a booth this year at WSOP and we look forward to Mr. Ivey's quest to join the double-digit bracelet holders list."
Some wondered if Ivey was simply a "fantasy partner" in the bet, but Negreanu later said on a Bluff podcast that Ivey would be taking the lion's share of the action, while he would take a very small portion.
If you think the pair can't make it happen this year, you can e-mail pattylandis@hotmail.com and make your own bet.
Want the latest poker headlines and interviews? Follow PocketFives on Twitterand Like PocketFives on Facebook. You can also subscribe to our RSS feed.