Twenty-one players remain in the $10 million guaranteed Seminole Hard Rock Poker Open in Hollywood, Florida. After well over 2,300 players showed up, three tables remain and the group features several brand name members of the online poker community. With a $1.7 million prize on the line, Mukul Pahujaleads the way with a stack of 8.1 million. The tournament restarts on Tuesday at Noon Eastern Time.

PocketFiver and former #1 ranked player Griffin Flush_EntityBenger (pictured) is among those who will return to action on Tuesday. Benger Tweeted after play had ended on Monday, "Finished Day 3 of #SHRPO with 4.67 million. Coming back to 21 players tomorrow. 1.7 million up top!" He sent Aaron Robbins away in 22nd place after his A-J staved off K-2. Benger moved up to 91 big blinds and is in seventh place.
A short stacked Leo Superfluous ManWolpert committed his chips on a flop of 8-7-2 and saw he was completely dominated. Wolpert had K-J for two overcards, but Ray Qartomy tabled two sevens for a set. No help came on the turn or river and Wolpert busted from the Seminole Hard Rock Poker Open in 23rd place. He reported on Twitter, "Busto 23rd for $58k, got my last 5 bbs in KJo vs 77. Maybe missed a spot to gamble when I had 8 bbs oh well. Ran great to get this far."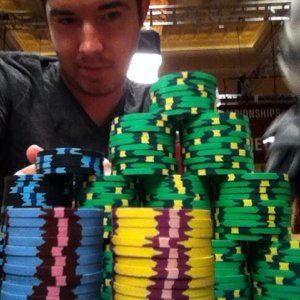 Also still in the running is World Series of Poker bracelet winner Blair blur5f6Hinkle (pictured), who called the 5bet all-in pre-flop of Cong Pham with 9-9. Pham flipped up A-9 and whiffed when the board came 6-5-3-Q-8. Hinkle moved up to 136 big blinds and, as the second largest stack at 6.5 million, is in prime position to make a run at the $1.7 million grand prize.
Hinkle shared on Twitter that making the final table on Wednesday would be doubly sweet: "Baller hotel rooms at Hard Rock Hollywood. I hope I get another night here."
Five of the top 10 players remaining are members of PocketFives. The group includes David Doc SandsSands, who Tweeted before turning in for the evening on Monday, "And we have a sweat. 21 left in the #SHPO5k main. I have a bit below avg stack w 2.85M chips. Both 1st and 2nd pay over a Milli." Also still alive is Justin ZeeJustin Bonomo, who was the chip leader when 100 players remained.
Here are the 21 players left along with the chip stack for each:
1. Mukul Pahuja – 8,125,000
2. Blair blur5f6Hinkle – 6,550,000
3. Ryan Olisar – 5,745,000
4. Derrick Cutler – 5,345,000
5. Jeremy Kottler – 5,275,000
6. Amir Lehavot – 4,895,000
7. Griffin Flush_Entity Benger – 4,670,000
8. Justin ZeeJustinBonomo – 4,215,000
9. Mark AceSpades Radoja (pictured) – 2,930,000
10. David Doc Sands Sands – 2,850,000
11. Panagiotis Nifakos – 2,625,000
12. Larry Klur – 2,600,000
13. Ray Qartomy – 2,580,000
14. Samuel Bernabeu Guilabert – 2,295,000
15. Zach Zaffos – 2,135,000
16. Griffin Arnold – 1,600,000
17. Jacob Viccellio – 1,495,000
18. Greg Lehn – 1,490,000
19. Krystal Seiling – 1,315,000
20. Dan Dyke – 1,140,000
21. Chris Johnson – 1,050,000
Visit SeminoleHardRockPokerOpen.com for more details.
Want the latest poker headlines and interviews? Follow PocketFives on Twitterand Like PocketFives on Facebook. You can also subscribe to our RSS feed.
Photos courtesy SHRPO.