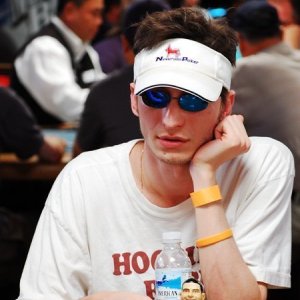 According to the Las Vegas Review Journal, former SealsWithClubshead Bryan Micon (pictured) is returning to the US to face gambling charges. An arrest warrant for Micon was issued on April 28 and he reportedly had fled to the island of Antigua.

The Nevada newspaper explained, "A judge recalled the warrant, allowing Micon to travel, and set a hearing for Thursday, according to court records. Defense lawyer David Chesnoff said Friday that he expected Micon to be in court for the hearing. Micon would be briefly booked in the Clark County Detention Center, but released on his own recognizance."
In February, Micon said that "a bunch of guys with guns broke down my door" and took his computer equipment. His bitcoin online poker site, SealsWithClubs, was allegedly operating "without first procuring and thereafter maintaining in effect the required licenses."
Micon later said, "After I was led out in handcuffs in my underwear, it was pretty clear it was proper to leave sooner rather than later. I didn't want my daughter to grow up in a police state where creativity is often met with guns and handcuffs."
As the Review-Journal outlined, Micon faces jail time: "The gaming charge carries a penalty of up to 10 years in prison and a $50,000 fine. [It is] the first prosecution of a poker site that used the digital currency." Nevada is one of three states in the US that regulates online poker.
Right after Micon's arrest warrant was issued, a GoFundMe campaign was established for his legal defense, although it was suspended after $4,000 was raised. Those who donated included Zachary Elwood, Woody Deck, Dutch Boyd, "Hollywood" Dave Stann, and Randy Dorfman.
In early May, Nevada gaming authorities released details of their investigation, which began in August 2013. An agent signed up for an account in February 2014 and played 30 hands after a player from Europe submitted a complaint about SealsWithClubs. A Review-Journal article at the time added, "In Skype conversations observed by gaming agents, Micon estimated that SealsWithClubs earned $10,000 to $12,000 profit each month."
Micon's home was raided on February 11. SealsWithClubs was in business for about a year.
After the closure of SealsWithClubs, Micon started SWCPoker.eu, which was still online when we checked in.
Want the latest poker headlines and interviews? Follow PocketFives on Twitterand Like PocketFives on Facebook.