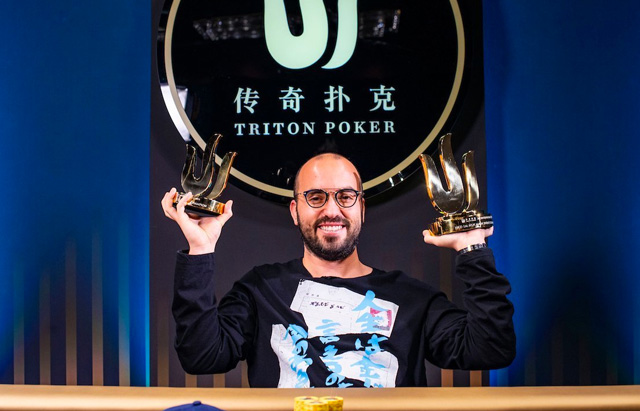 It was another banner day for one of poker's winningest players as Bryn Kenney found himself back in the winner's circle again after taking down the 2019 HK$1,000,000 Triton Montenegro Main Event for $2,713.859.
Kenney outlasted an all-star final table that included runner-up Daniel Tang, Peter Jetten, Nikita Badziakouski, Sam Greenwood, Erik Seidel, Matthias Eibinger, Jason Koon and Triton Poker Series founder Paul Phua.
Kenney's over $2.7 million score is the second largest of his career, right behind his over $3.06M haul that he took home for his runner-up finish in Triton's HK$2M Super High Roller Series Jeju Main Event in March.
It's his second victory of the Montenegro series, the first coming in Event #2 (HK$500,000 No Limit Hold'em Six Handed) where he won the $1,431,376 first-place prize.
Kenney's 2019 has been nothing short of incredible. According to The Hendon Mob, the New York pro has eight results this year, four of which are for victories – including his official first-place finish in the 2019 Aussie Millions Main Event. In total, Kenney has over $9.1 million in total earnings this year alone, putting him at the top of the list for 2019 earners. He has also jumped up two spots on the All-Time Money List to fourth place sitting only behind Erik Seidel (3rd), Daniel Negreanu (2nd) and list leader Justin Bonomo.
HK$1,000,000 Triton Montenegro Main Event Final Table Results
1. Bryn Kenney – $2,713,859 (HK$21,300,000)
2. Daniel Tang – $1,796,498 (HK$14,100,000)
3. Peter Jetten – $1,223,148 (HK$9,600,000)
4. Nikita Badziakouski – $925,005 (HK$7,260,000)
5. Sam Greenwood – $719,873 (HK$5,650,000)
6. Paul Phua – $560,609 (HK$4,400,000)
7. Erik Seidel – $440,842 (HK$3,460,000)
8. Matthias Eibinger – $341,462 (HK$2,680,000)
9. Jason Koon – $261,193 (HK$2,050,000)
Kenney's Path To Victory
Although the player pool for the Main Event was limited, a total of 44 players (plus their 31 re-entries) pushed the prize pool to HK$70,500,000 ($8,982,494 USD). When the final nine returned to play to a winner, there were plenty of short stacks at the table.
One of them was Triton ambassador Jason Koon. After losing a flip and doubling up Paul Phua, Koon was sitting on five big blinds. He moved in on the button with [ac][7d]. Nikita Badziakouski reshoved to isolate Koon, holding [8c][8s]. However, Matthias Ebinger also got involved from the big blind, calling with [ad][qh]. While a queen did hit the flop, an eight turned and both Koon and Eibinger hit the rail. Koon, the shorter stack, would take ninth place for $261,193 while Eibinger settled for eighth place and $341,462.
Seidel finished in seventh place when his short stack re-shove with [qh][9h] from the small blind was called by Badziakouski's [as][td]. The pro from Belarus turned the ten-high flush to send Seidel out the door in seventh for $440,842.
The final six battled for the better part of three levels, during which time Kenney began to accumulate chips from the then chip leader Badziakouski.
Six handed, Kenney picked up pocket queens on the button and limped, the small blind folded and Paul Phua checked his option holding [7s][4d]. The flop brought both a seven and a queen, giving Kenney a lock on the hand. Phua, however, moved all in with his pair of sevens, practically drawing dead. Phua finished in sixth for $560,609.
Greenwood was sitting on a short stack and from the cutoff, he limped with the [ad][qd]. Danny Tang completed in the small blind with the [ks][5d] and Badziakouski checked his option with the [kc][9h]. The flop came [2c][kd][4s] with both blinds flopping a pair. Checked to Greenwood he put out a min-bet. Tang made the call and Badziakouski put in a raise. Greenwood tank-shoved which got Tang to fold. Badziakouski tanked, fearing Greenwood has limped aces pre-flop. Eventually, Badziakouski made the call. The board bricked out for Greenwood who finished in fifth place adding $719,813 to his earnings, which is now more than $17.445M lifetime.
Kenney and Badziakouski then got the two biggest stacks in on a massive flip as Badziakouski's [ac][js] faced off against Kenney's [7c][7s]. Kenney's pair held and Badziakouski, who had led for the majority of the final table, ended up in fourth place taking home $925,005.
After that hand, Kenney was a massive chip leader over both Jetten and Tang. Kenney took out Jetten in third place when his [th][9s] clipped Jetten's [ks][6h]. Jetten picked up the second largest cash of his career, taking home $1,223,148.
Finally, Danny Tang faced off against Kenney with 12-1 chip deficit. There was no coming back in this one as Kenney closed it out, making Tang the runner-up for $1,796,498. It is the first seven-figure cash of Tang's career.
For Kenney, the heater continues as the $2,713,859 first-place prize of the HK$1,000,000 Triton Montenegro Main Event is his third million dollar score in a row.
The 2019 Triton Super High Roller Series Montenegro continues through May 17.