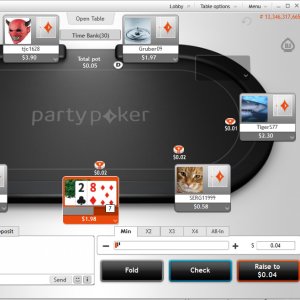 Marketers at bwin.party are undoubtedly reeling this week after several of the gaming giant's highly trafficked domains were removed from Google results. The disappearance was first reported by eGaming Review and is likely due to a penalty imposed on the Gibraltar-based company by Google for link-building practices.

While the company once ranked among the top few results in searches involving terms like "online poker" and "online casino," its domains are now conspicuously absent. Even a search for "PartyPoker.com" now only brings back a result of the site's dot-net page, with similar results for "PartyCasino.com."
Holding the top spot for gambling-related keyword searches is a highly sought-after accomplishment for companies like bwin.party. The financial advantages of such free visibility can be huge, as top-ranked sites are sent large amounts of traffic without the need for paid advertising.
That means the competition is cutthroat, especially for an industry like online gambling where a site could reap thousands of dollars from just one customer. To get that extra boost, some companies choose to buy links from other high-ranking sites pointing back to their own site, a practice common in the gambling world but generally against Google's terms.
While paying for links might be technically against the rules, it can be effective in boosting a page's rank in search results. As far as Google is concerned, if a lot of popular sites link to your site, then your site must be popular as well.
But, Google is onto these schemes and has continually refined its algorithm to spot "link profiles" that don't appear to have evolved naturally. In fact, the search engine released an update called Penguin 2.0 last year that specifically targets sites with paid links and links from low-quality websites. Overnight, the balance of search rank shifted tremendously as previously successful sites felt the sting of the new update.
"It looks like this is likely the cause of the lost visibility for PartyPoker.com," SEO expert Stacey Cavanagh told eGaming Review. "They have a lot of what Google is likely to deem manipulative inbound links."
bwin.party is only the latest high-profile gaming company to incur Google's wrath this year. Last month, a similar fate befell sports book BetOnlinewhen the gaming site was wiped off of the search engine for unscrupulous link buying activity. "It looks like a classic case of not being careful with their link-building and having too many site-wide links," said SEO specialist Nick Garner at the time.
In January, gaming behemoth William Hill took a huge search visibility hit when the company's toxic link profile was penalized, causing a huge drop in traffic.
"Losing all of your Google organic traffic is, for most sites, a substantial financial hit – many have to replace this traffic through paid search, for example," said Cavanagh, reiterating just how devastating the loss of visibility can be.
With the right modifications, however, sites can have their penalties lifted and regain their former standing. In Party's case, that would likely involve having all of the paid links removed and filing a reconsideration request with Google. Once the site is appearing in search results again, it could add the paid links back in a slow, more natural way.
Last September, PartyPoker completely revamped its website and client with a focus on recreational players and social gaming features.
Want the latest poker headlines and interviews? Follow PocketFives on Twitterand Like PocketFives on Facebook. You can also subscribe to our RSS feed.