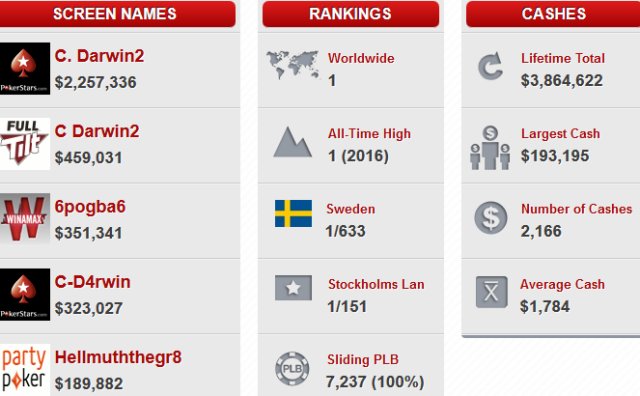 There are six Swedes in the top 20 of the PocketFives Rankings. And when one Swede falls out of the top spot worldwide, another swoops in to take his place. That's exactly what happened this week.

Ranked second last week, Sweden's 'C Darwin2' moved up one spot and is the new #1 ranked online poker player in the world. This is his second stint at #1 after he was the top dog for seven weeks from February 10 to March 30 of this year.
'C Darwin2' has been on a tear as of late. In the last seven days, he won the partypoker Fight Night High Roller for $24,000, finished third in the 888 Mega Deep for $15,000, and taken fifth in the partypoker Super High Roller for $19,000. He has 7,236 PLB Points, exactly 60 more than the next closest player.
Speaking of the next closest player, that distinction belongs to Brazil's Joao 'joaosimaobh' Simao. Two weeks ago, Simao was up 15 spots to #6. Last week, he moved down one to #7. Now, he's all the way up to #2, his highest ranking ever.

Simao finished fourth in the partypoker Super High Roller over the weekend, the same tournament 'C Darwin2' placed fifth in. The same day, he took down the PokerStars Sunday Second Chance for $37,000 and a healthy 457 PLB Points. The Second Chance was the 150th online MTT win of his career and helped push his lifetime cash total north of $4 million.
Canada's Joel 'jbrown8777' Brown also made waves this week by moving back into the top 10 at #10. He's up six spots after taking down the partypoker High Roller over the weekend for $12,000, his 149th tracked win. Brown is just a few thousand dollars shy of passing $4 million for his career and is on the verge of hitting $3.3 million on PokerStars.
Sweden's 'Discoovery' moved up 25 spots to #14. He won the partypoker Super High Roller on Sunday for over $67,000 and earned 545 PLB Points. The same day, he final tabled the Sunday 500 for another $17,000 and 220 PLB Points. This is the highest 'Discoovery' has ever been ranked on PocketFives; you can find him on PokerStars under the screen name 'shipitftw911'.
Pedro 'PaDiLhA SP' Padilha also on the moved up this week. He rocketed up 26 spots in the rankings to land at #61, 11 spots off his all-time high. Padilha won not one, not two, but three online MTTs on April 20 – two $55 No Limit Hold'em tournaments on PokerStars and the site's $109 Rebuy – for almost $40,000 total. Those scores bumped his career win total to 81. He's the fourth-ranked player from Brazil and has $2.5 million in lifetime scores.
'Barry86', who just passed $1 million in winnings on PokerStars under the moniker 'OMGACEACEACE', reentered the top 100 at #76. He won the PokerStars $109 No Limit Hold'em Turbo Sunday Edition over the weekend for $18,000 and also took third in the Full Tilt Sunday Major. 'Barry86' was ranked as high as #45 on PocketFives last year.
Korea's Jae 'YugiohPro' Kim also reentered the top 100 this week at #94, 60 spots off his all-time high set three years ago. Kim is the top-ranked player in Korea and finished second in Sunday's Fight Night High Roller on partypoker for $23,000.
Kim has been a member of PocketFives since 2009 and said the community continues to be vital to his growth as a player. "I still have so much fun reading the articles on PocketFives and checking the updated point totals for all of the players I admire," he said. "PocketFives is really an incredible resource for any MTT player."
Here's this week's top 10:
C Darwin2 – 7,236 points
joaosimaobh – 7,176 points
Ariados – 7,029 points
lena900 – 7,027 points
Big Huni – 6,910 points
veeea – 6,688 points
damourinio – 6,667 points
MendaLerenda – 6,547 points
hellohellohello – 6,520 points
jbrown8777 – 6,504 points