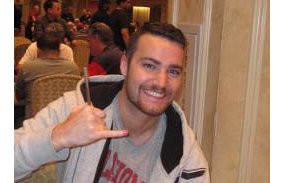 Chad Power, who based on name alone would make a great poker-player superhero duo with 2006 World Series of Poker Main Event 11th place finisher Leif Force, was in a unique situation going into Day 7 of the 2015 WSOP Main Event. Of course, he is in the top 27 with his eyes on the November Nine and that is as unique a position as any, but he is also feeling the excitement of seeing his friend and roommate, Christoph Brand, still in the tournament as well. He ended up in 26th place for $262,000.

—
Tournament Poker Edgeis the only poker training site dedicated exclusively to MTTs and features over 1,000 training videos, blogs, articles, podcasts and a dedicated strategy forum for members. Check Tournament Poker Edge out on Twitter.
—
On Day 6, Power told Bluff.com, "It's like I'm in the tournament twice. I really, as much as I wanna win, I've lived with Chris for probably two years now, and obviously we've become good friends and I just want him to do as well as I want to do. Almost."
The two were introduced a few years ago by a mutual friend. That friend moved into Power's Maryland home, followed shortly thereafter by Brand. Power, Brand, and some other friends now fly out to Las Vegas each summer for the WSOP, mostly to play in cash games. Power stakes several of the housemates and actually put some of them, though not Chris, into the Main Event.
Power didn't play in many tournaments before the Main Event – as mentioned, he was in Vegas mostly to play in the juicy cash games – but he did cash in the Colossus at the beginning of the 2015 WSOP, his only career WSOP cash before the Main Event.
Power told Bluff that despite the exhausting, long days in the Main Event, he still has trouble getting to sleep at night because "I just have this adrenaline flowing."
Whereas most players would try to get a good night's sleep, Power has only been sleeping four to five hours per night. It's working for him, it seems, as he entered Day 7 in 16th place with 5.3 million chips.