In September of last year, New Jersey State Senator Raymond Lesniak hinted that PokerStars' approval to operate in the Garden State was imminent. But as the months pass by, many are wondering just what, exactly, is holding up the process. Speaking to Business Insider, several political insiders place the blame squarely on the shoulders of casino mogul Sheldon Adelson and New Jersey Governor Chris Christie (pictured).

"Christie put a stop to it," said Lesniak. "With a high degree of confidence, it's apparent that's exactly what has happened."
The entry of PokerStars into the market could bring significant benefits to beleaguered Atlantic City. The site hopes to use its brand recognition and marketing prowess to sign up a new wave of online poker players. The gaming giant had also planned to invest $10 million in a showcase poker room at Resorts Atlantic City. Local union leader Bob McDevitt believes that PokerStars could bring upwards of 1,000 much-needed jobs to the community.
So why would Christie, the Governor who once signed off on internet poker in New Jersey, delay something that seems like a clear win for the state? The answer is likely tied to Christie's personal ambitions of becoming commander-in-chief in 2016.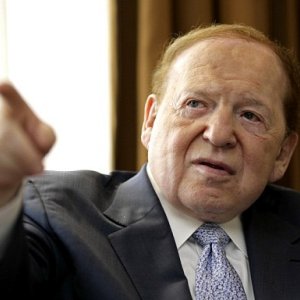 Through massive donations to GOP candidates, Las Vegas Sands CEO Adelson(pictured) has become such a powerful force in American politics that right-wing presidential hopefuls are virtually required to pay homage to the billionaire and parrot his causes.
Unfortunately for Christie, Adelson is vehemently opposed to online gambling and has been making good on his promise to spend "whatever it takes" to put a stop to it. That puts Christie in an awkward position, but delaying PokerStars' licensing could be a way for him to prove his loyalty in the eyes of the Republican mega-donor.
Lesniak, who was instrumental in legalizing i-gaming in 2012, says it's common knowledge that Christie is doing Adelson a solid by blocking PokerStars. "It's pretty well known," he said. "But I don't think anyone's going to go on the record to confirm it."
McDevitt was one of those who was willing to speak out, saying that, "PokerStars should have been already up and operating long before this point." He added that it was his own understanding that the Attorney General's office and the Governor were holding up approval.
Another source was more resolute, saying, "There is no question in my mind that Sheldon Adelson is the reason why this hasn't moved forward, and that's the only reason." Christie has called the allegations that he put PokerStars on ice as a favor to Adelson "nonsensical."
Christie's relationship with Adelson, however, is the subject of a biting New York Times piece, which questioned whether the two "friends" were acting in an inappropriate manner for a politician and a private citizen. While through the years, the Governor and his family have enjoyed perks like jaunts on Adelson's private jet, Christie claims that the men don't discuss issues like online gambling policy during such trips.
Adelson, however, tells a different tale, once letting slip that the two discussed online gambling legislation. He implied that Christie wanted to veto the New Jersey i-gaming bill, "as Mr. Adelson would've wanted," but decided against it. He allegedly told the tycoon that the only reason he didn't use the veto was out of fear that the move would be overridden.
Visit PocketFives' New Jersey poker community for the latest news and discussion from New Jersey players.
Want the latest poker headlines and interviews? Follow PocketFives on Twitterand Like PocketFives on Facebook. You can also subscribe to our RSS feed.