It has been a monumental week for England's Chris moorman1Moorman (pictured), and that's probably an understatement. He started off March by becoming the first PocketFiver ever to earn four Monthly PLB titles, blowing away the competition in February by over 800 points, one of the widest margins ever. On Wednesday, he ascended back to the top of the PocketFives Online Poker Rankings, his 12th stint at #1.

On Thursday, one day after he became the #1 player on PocketFives, Moorman won the World Poker Tour's LA Poker Classic for $1 million. "I finally did it! #lapc2014 #champ," Moorman posted on Twitter. He started the final table second in chips and got off to a hot start, taking down the first three hands and six of the first nine.
It took all of 26 hands for Moorman to overtake Michael Rocco for the chip lead, and the most successful PocketFiver ever padded his edge by dispensing of Josh Neufeld in fifth place. Neufeld 4bet all-in before the flop with A-10 of hearts and Moorman looked him up with pocket tens. No drama was in store and Moorman scooped the pot to stack 163 big blinds, more than twice the second place total.
Moorman won 14 of the first 40 pots, the most of anyone, but Rocco charged ahead, claiming seven of the next 20 pots compared to Moorman's three. Then, Patrick Bruel doubled through Moorman, Glenn Lafaye doubled through Bruel, and suddenly, Moorman, albeit by a small margin, was the low man on the totem pole.
On the 102nd hand of final table play, Rocco doubled through Moorman, who was left with 23 big blinds. However, Moorman managed to buck Bruel from the LAPC shortly thereafter. Bruel moved all-in on a flop of J-8-2 and Moorman called, flipping over A-J for top pair, top kicker. Bruel showed K-8 for second pair and a running 9-Q sealed the deal for Moorman, who moved into second place and scored his second knockout.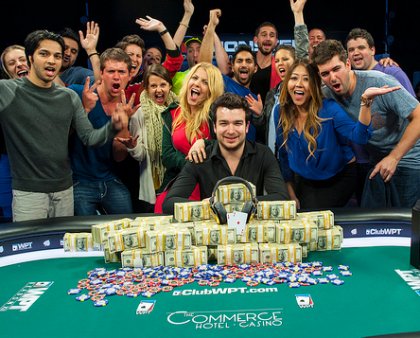 A three-way all-in trimmed the table even further. Rocco was all-in pre-flop with A-8, Moorman had 10-10, and Lafaye had both of his opponents covered with Q-J of diamonds. The flop came K-Q-J, giving Lafaye two pair, and a three on the turn set up what would have been a double elimination for the LAPC title. However, an ace on the river gave Moorman Broadway and sent Rocco to the rail.
Moorman Tweeted about the miracle river card, "Ace on the river! Heads-up for it all now!" Moorman and Lafaye were virtually deadlocked in chips entering heads-up play.
The Brit put on a clinic from there, at one point building a 7:1 chip lead. Lafaye doubled through to cut the gap to 3:1, but couldn't gain any more momentum. On the final hand of the WPT LAPC, Lafaye pushed all-in with 5-4 for an open-ended straight draw on a flop of J-6-7. It wasn't meant to be, as Moorman woke up with aces and held on for the win. Moorman knocked out four of his five final table opponents at his first WPT final table.
In addition to the million bucks, Moorman took home a WPT Champion's Trophy, a Commerce Remington trophy, and a pair of Monster 24K headphones. Not too bad. Here were the payouts from the 2014 WPT LAPC:
1. Chris moorman1 Moorman – $1,015,460
2. Glenn Lafaye – $662,840
3. Michael Rocco – $423,440
4. Patrick Bruel – $332,190
5. Josh Neufeld – $264,520
6. Adam Friedman – $200,440
Congratulations for Moorman poured in on Twitter, where poker pro Jude Ainsworth wrote, "Congrats @Moorman1, sick result and well deserved." Craig mcc3991 McCorkell added, "Woke up to some great news! Congrats @Moorman1 #winningplayer."
According to the Hendon Mob, Moorman has nearly $4 million in live tournament cashes and is #12 on the all-time money list for England. The LAPC marked his second seven-figure live score; the other came as a result of a runner-up finish in the World Series of Poker Europe Main Event in Cannes three years ago. He has the highest earnings of anyone in the world on PocketFives at $10.9 million. Congrats on Moorman on his WPT win!
Want the latest poker headlines and interviews? Follow PocketFives on Twitterand Like PocketFives on Facebook. You can also subscribe to our RSS feed.