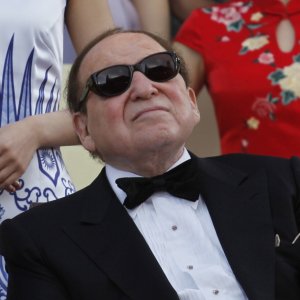 What started as a relatively mundane wrongful termination lawsuit against Las Vegas Sands Macau has spiraled into something much more serious after possible links to organized crime groupswere brought to light during trial. Now, a nonprofit arm of the Guardian news publication has filed a motionto unseal a document compiled by a former Hong Kong police chief that is believed to spell out illegal practices utilized by the Sheldon Adelson-run company. Adelson is pictured.

Former Las Vegas Sands Macau President Steve Jacobs was hired in 2009 and later became its President. He claims that during that role, he was directed to engage in criminal activity on behalf of the company.
Jacobs recalls that he was asked to prepare reports on Chinese officials, along with the leaders of the powerful organized crime groups known as triads, to be used as fodder for the purposes of blackmail.
In another instance, he was chastised for canceling an excessive payment, which he believed to be a bribe, to a Macau attorney with connections to the Chinese Communist Party. Even after voicing his concerns, Adelson quietly put the lawyer back on the company payroll.
It also came to light that some $68 million had been flown from Asia to Las Vegas to be used as cash advances to casino high-rollers, among other things. Jacob's attorneys have implied that the proper federal tax documentation was not filed on such transfers, allowing the cash to be spent without oversight.
The breadth of the corruption at Sands Macao is said to be revealed in a report written by former Hong Kong police official Steve Vickers, who now specializes in corporate risk management. Attorneys for Sands have moved aggressively to suppress the document from the wrongful termination suit.
The watchdog group believes that Adelson has strong links to leaders of Triad groups, specifically the Wo Hop To triad that's run by a flamboyant leader known as Cheung Chi Tai (pictured). In 2009, he was convicted of conspiracy to commit bodily harm and solicitation of murder, ordering his men to break the arms and legs of a Sands Macau dealer who was allegedly involved in a scheme to bilk the casino out of millions.
Adelson, who is a fierce opponent of the legalization of online poker in the US, is also the Republican Party's biggest donor, spending up to $150 million to sway the 2012 elections for his preferred candidates.
"Given the extent to which Adelson's wealth derives from his Macau casinos, and the extent to which the Macau casinos derive their profits from the junkets, which are controlled by the triads and are heavily involved in money laundering, it is quite possible Macau organized crime funds have wound up in the coffers of candidates for federal office and/or in the treasuries of so-called dark money groups supporting them," a motion filed by the group argued.
Adelson has signaled his intention to spend lavishly on the 2016 Presidential election. The Sands CEO donates so much cash that GOP candidates are virtually required to travel to Vegas and pay their respects to the billionaire in what some call the "Adelson Primary."
"Access to the requested documents will inform and enhance public awareness of Mr. Adelson's role in electoral politics and provide the transparency necessary for the public to hold responsible the officials and candidates for public office who accept his money," the motion continued.
Adelson, known for his brash and confrontational style, recently took the stand in a Nevada court and claimed that he had "34" legitimate reasons for firing Jacobs. But the former Sands President argued that in reality he was let go for "blowing the whistle on improprieties and placing the interests of shareholders above those of Adelson."
During the trial, Adelson was combative, even arguing with the judge presiding over the trial. To his lawyer's chagrin, he spoke openly, often making statements which have been proved to be contradictory to the evidence.
If Adelson is found to have ties to organized crime, his casino licenses could be in jeopardy.
Want the latest poker headlines and interviews? Follow PocketFives on Twitterand Like PocketFives on Facebook.