On Wednesday, while much of the poker world was fixated on the Stanley Cup Playoffs, Daniel Alaei (pictured) won his fifth World Series of Poker bracelet. The 30-year-old took down the $10,000 Omaha Eight or Better Championship for $391,000, the second time in his career he's won it.

—
Tournament Poker Edgeis the only poker training site dedicated exclusively to MTTs and features over 1,000 training videos, blogs, articles, podcasts and a dedicated strategy forum for members. Check Tournament Poker Edge out on Twitter.
—
The tournament had 157 entrants and generated a prize pool that almost passed $1.5 million. After winning, Alaei became the second youngest player to win five bracelets. The youngest to do so: Allen Cunningham, who beat Alaei by a few months. This was Alaei's first tournament entered at the 2015 WSOP.
Alaei said of his five pieces of hardware, "I think they are all pretty sweet. I did win this event in 2009, so it's nice to win it again. It was especially nice to win since I was so low-stacked when we were heads-up. So, it was really nice to come back and win it." Alaei was down 6:1 in chips at one point heads-up, making his victory even more impressive.
Alaei is now tied for 15th all-time in terms of bracelets won with five. He's tied with the likes of Stu Ungar, John Juanda, and Scotty Nguyen.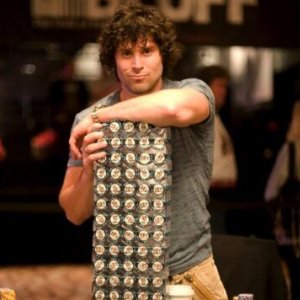 WSOP officials pointed out that Phil Hellmuth, who just won his 14th bracelet, was 31 years old when he won his fifth. So, Alaei is ahead of Hellmuth's pace thus far. On being among poker's elite, Alaei said, "I love coming to the World Series. I love playing the tournaments. I hope to win more and maybe one day be in that conversation. As for now, I just try to play my best and do what I do."
Fourth place in the Omaha Eight or Better Championship went to PocketFiver Scott BigRiskkyClements (pictured), who has owned Omaha over the years. Clements has two bracelets and was the runner-up in the Omaha Eight or Better Championship in 2009. Sixth place belonged to reigning World Poker Tour Player of the Year Anthony Zinno.
PocketFiver Kyle DEGENWLDBOYMiaso finished in second place for $241,000. There were four bracelet winners at the final table, including Mike Wattel, who won the Omaha Eight or Better Championship in 1999. Ninth place went to gold bracelet winner and 2012 November Niner Jeremy Ausmus.
Here's how the final nine shook out:
1. Daniel Alaei – $391,097
2. Kyle DEGENWLDBOYMiaso – $241,691
3. Jeffrey Vaughn – $175,088
4. Scott BigRiskkyClements – $129,235
5. Ken Aldridge – $97,122
6. Anthony Zinno – $74,262
7. Mike Wattel – $57,748
8. Tobias Hausen – $45,661
9. Jeremy Ausmus – $36,688
Stay tuned to PocketFives for the latest WSOP coverage, brought to you by Tournament Poker Edge.
Want the latest poker headlines and interviews? Follow PocketFives on Twitterand Like PocketFives on Facebook.