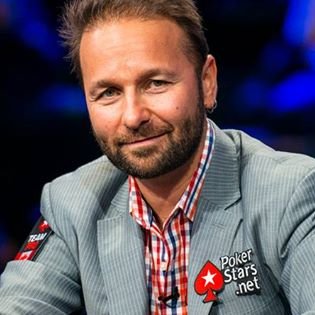 The 2015 nominees for the Poker Hall of Fame(PHOF) have been announced. They include 10 players who have excelled in the game or have been instrumental to its growth. One of those nominated was David "Devilfish" Ulliott, who passed away earlier this yearafter succumbing to bowel and liver cancer and is widely known as one of Britain's most successful players. After his death, many called for Ulliott to be included as a nominee for this year's PHOF class, including Phil Hellmuth, Tony G, and Vicky Coren.

—
Tournament Poker Edgeis the only poker training site dedicated exclusively to MTTs and features over 1,000 training videos, blogs, articles, podcasts and a dedicated strategy forum for members. Check Tournament Poker Edge out on Twitter.
—
Poker pro and 2014 Poker Hall of Famer Daniel Negreanu (pictured), however, believes that players should not be shortlisted into the PHOF for the simple fact that they have passed away. Furthermore, he believes that a nominee's personality should not factor into his chances of making the PHOF and rejects the idea that players need to be known as "nice guys" or be well-liked to get in. Read this thoughts.
According to the WSOP PHOF criteria, individuals can be inducted for excelling against "acknowledged top competition" or for "contributing to the overall growth and success of the game" as a non-player. Using the cold logic of a poker pro, Negreanu runs down the list of requirements to analyze whether this year's nominees should be considered for induction.
"On this year's list, we have exactly three people who should get consideration as a non-player: Matt Savage, Terry Rogers, and Bruno Fitoussi," he said. "That leaves seven other nominees that should be judged based on their play, and their play only. I don't care if they were nice guys, I don't care about their contributions to the game; all of this is absolutely meaningless based on the clearly written criteria."
Negreanu acknowledges Ulliott's (pictured) contribution to the poker world and believes that his resume as Britain's second biggest tournament money winner has legitimately earned him a spot on the list. "Having said all that, his passing should have absolutely nothing to do with whether or not he earns your vote," he said. He continued by giving an example of poker pro Thor Hansen, who had suffered health issues and was considered for the PHOF before recovering.
"I played with Thor for 20 years, great guy, and solid player, but the fact that he was sick should have absolutely no bearing on the voting," Negreanu added.
He argues that there are several players who, while not household names, have had more successful poker careers than some of the 2015 nominees. Specifically: David Oppenheim, Huck Seed (pictured), John Hennigan, Abe Mosseri, and Ray Dehkharghani. "If we are nominating based on the criteria, these guys have certainly stood the test of time and continue to play in the biggest cash games in the world and succeed," he said.
A player's gender should not factor into the voting process either, Negreanu says. He believes that 2015 nominee Jennifer Harman has earned her spot on the list, but cautions that players should not be inducted for the simple fact that they are female.
The PHOF ballot was open for public vote, but the actual inductees will be picked by previous PHOF classes and a panel of poker media, including Dan Cypraand Kevin Kevmath Mathers from PocketFives.
Negreanu asks his colleagues to vote for the players who are most deserving, regardless of personality, gender, or life circumstances. "Which of these 10 players would you find the most difficult to play against in tournaments, mixed games, or even online? Who do you think would be the toughest to beat?" For Negreanu, John Juanda is a no-brainer, but the Canadian poker pro still isn't sure how he will "divvy up" his votes.
Want the latest poker headlines and interviews? Follow PocketFives on Twitterand Like PocketFives on Facebook.