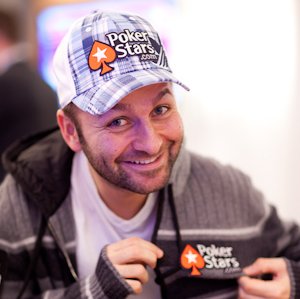 The 10 finalists for this year's Poker Hall of Fame class have been announced. One name stands out on the list as a potential early favorite for this year's class, Daniel Negreanu (pictured). This author is once again on the voting panel for the Poker Hall of Fame and will likely be casting the majority of his votes to "Kid Poker."

—
PocketFives' news coverage is brought to you by Betsson Poker, a leading global online gaming provider. Betsson Poker is available on Mobile and offers regular promotions to live events around the world along with great bonuses and competitions. Play nowfor a chance to win the a Dream Holiday with the Grand Poker Adventures throughout 2014!
—
This year's 10 finalists, in alphabetical order, are:
Chris Bjorin
Humberto Brenes
Bruno Fitoussi
Ted Forrest
Jen Harman
Bob Hooks
Mike Matusow
Jack McClelland
Daniel Negreanu
Huck Seed
Ballots will be sent to the 21 living members of the Poker Hall of Fame along with 20 members of the media. Bjorin, Brenes, Harman, Matusow, and Seed all appeared on the ballot in 2013, but were not inducted. Fitoussi, Forrest, Hooks, McClelland, and Negreanu are new this year.
This is what the media panel and living Poker Hall of Fame members will be voting based on:
– A player must have played poker against acknowledged top competition
– Be a minimum of 40 years old at time of nomination
– Played for high stakes
– Played consistently well, gaining the respect of peers
– Stood the test of time
– Or, for non-players, contributed to the overall growth and success of the game of poker, with indelible positive and lasting results.
Induction ceremonies will take place during the WSOP November Nine weekend in Las Vegas.
In the past, each voter has gotten 10 votes to cast for up to three people they think deserve entry. This author is tempted to flush all 10 votes to Negreanu, who has been one of the primary faces of the poker industry in the modern era. Negreanu is #1 on the all-time money listaccording to the Hendon Mob, has played for the highest stakes around, and is #3 on GPI. He is the main face of the world's largest online poker site, PokerStars.
More importantly, Negreanu's character and willingness to promote the game can't go overlooked. He has appeared on a variety of non-poker programming, including shows like "Millionaire Matchmaker," and has always been very media-friendly. Any time this author has asked Negreanu for a comment or information in general, he has typically gotten a prompt response. He regularly takes pictures with fans and interacts with the general public on a level not seen by more than a handful of members of the poker community.
Who do you think should be inducted, and I'll consider your comments when casting my ballot?
Want the latest poker headlines and interviews? Follow PocketFives on Twitterand Like PocketFives on Facebook. You can also subscribe to our RSS feed.