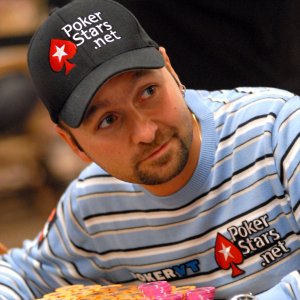 Before the rise of online poker, aspiring pros were hard-pressed to find reading material to help improve their game. But after Chris Moneymaker's seminal 2003 WSOP Main Event victory, poker exploded in popularity and suddenly players had a wealth of books, training videos, and strategy articles to choose from.

—
Tournament Poker Edgeis the only poker training site dedicated exclusively to MTTs and features over 1,000 training videos, blogs, articles, podcasts and a dedicated strategy forum for members. Check Tournament Poker Edge out on Twitter.
—
Six-time bracelet winner Daniel Negreanu (pictured) was one of poker's first superstars and has penned two books on Hold'em strategy. With over $30 million in live tournament winnings and a host of other accolades to his name, not many would argue that the Toronto native isn't one of the best poker players of all time. Negreanu, however, believes that poker players should be wary of books written by "so-called pros" who offer "expert" advice without having proven themselves to be long-term winning players.
"While there may be plenty of genius football or golf coaches that never reached the elite level as a player, only the elite players themselves can write the best poker books and provide the best training videos," Negreanu wrote on his blog. "It's not really possible to be a mediocre or losing poker player, but also be an elite poker coach."
That statement implies something of a paradox – the best poker players in the world are seemingly making much more money playing poker than they would by writing a book. What's more, highly successful pros would be forced to reveal their winning strategies, something that many grinders are keen to do. "The truth is, many of the best poker books will never be written," added Negreanu.
He makes a distinction between poker strategy books and books that focus on improving a player's mindset at the tables. "The writers of these [psychology] books don't need to be elite poker players," he said. "They need to excel only in understanding psychology, what helps players be at their best, and what causes them to fail. They don't give you the answer to how AQ should be played against a raise."
Like in any other discipline, some of the world's top poker players have never even read a book on poker strategy and instead possess a natural ability at the tables. High-stakes pros like Patrik Antonius and Viktor Blom have revealed in interviews that they have never read such books and rely solely on their own judgment.
For players considering buying training videos or books, Negreanu recommends asking yourself the following: "Who is the author and what are their credentials? Are they successful with the strategies they are teaching today? If they can't provide any relevant concrete credentials that are applicable to today's game, you would be foolish to trust in their material."
In the early 2000s when poker was booming and fish were plentiful, it was far easier to be a winning poker player than it is now. These days, even the most inexperienced poker players have a higher base level of knowledge of the game and are not as easily taken advantage of. That means players who were making a good living in the softer games of the past might not even be winning players in the same limits today.
"There are books on the market today that would actually make you a worse poker player if you followed their advice," cautioned Negreanu. "There are plenty of frauds out there because there really isn't a basis to verify an author's credentials unless they release their personal poker records over an extended period of time."
While often known to name and shame people with whom he disagrees, Negreanu didn't point out anyone in particular. He simply wants players to verify that the product they pay for has been created by a time-tested winning player.
Want the latest poker headlines and interviews? Follow PocketFives on Twitterand Like PocketFives on Facebook.