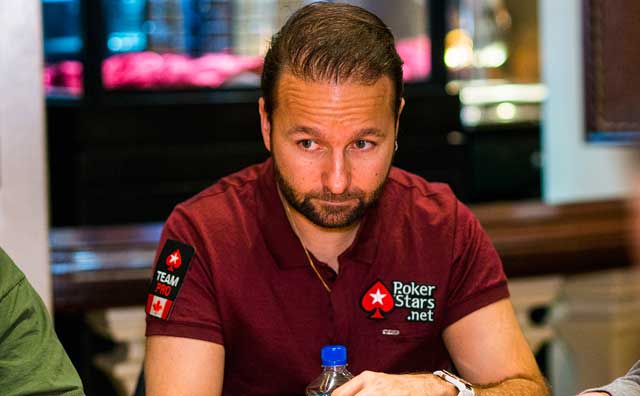 Daniel Negreanu went looking for action and action came running.
The Poker Masters, a series of five high roller tournaments from PokerGO, runs September 13-20. The series includes five events, the first four re-entry events come with a $50,000 buy-in while the final freezeout tournament is a three-day $100,000 affair.

In addition to the heaps of money up for grabs, the honor of being bestowed with the first Poker Masters Purple Jacket is also at stake. The player who ends up with the highest total earnings at the end of the five tournaments will slip on the sleeves of Waraire Boswell tailored coat and be crowned the inaugural Poker Masters champion.
For Negreanu, poker's current all-time money leader, a week's worth of high-rolling action, including the minimum $300,000 worth of buy-ins (provided one plays the entire schedule), is simply not enough. 'Kid Poker' wants more and he's not shy about stirring up the high-stakes community in an effort to put up additional cash on himself to be fit for the jacket and the exclusive member of the new Poker Masters club.
Looking for action for PokerMasters?
I want to bet myself
-even money
-must win purple jacket
-$50k cap per player

— Daniel Negreanu (@RealKidPoker) September 4, 2017
Negreanu took to Twitter to see who was game to go heads-up for an additional $50,000 on a Poker Masters side bet for the Jacket. But he didn't just wait to see who would respond to his open challenge, he poked his new media nemesis and 2017 World Series of Poker One Drop Champion, Doug Polk.
@DougPolkPoker would you like $50k of this juicy action?

— Daniel Negreanu (@RealKidPoker) September 4, 2017
It didn't take long for Polk, after basically being called out, to snap call Negreanu and book the bet. That's when the floodgates opened as Polk, perhaps thinking he found an edge, looked to book the same bet for other players.
Then, the action Negreanu was looking for came flooding in. Players and shot-takers, including Bill Perkins and newly signed partypoker ambassador Fedor Holz, inquired about booking the same bet with Negreanu for a variety of different players. The basics of the wager being that each player booked had a maximum of $50,000 allowed to be placed on them at even money. If neither Negreanu nor the booked player win the Purple Jacket, the bet is a push. One wager per player and if that player themselves wished to book the bet then all previous action given to outside individuals would be null and the action would be given to the actual player playing in the event.
In only a couple of hours, Negreanu claimed that he had booked the $50,000 side bet on no fewer than 18 high-stakes beasts including Polk, Holz and 2015 Super High Roller Bowl Winner Brian Rast.
I have $50k Purple Jacket Must win bets against the following players. I may up the cap to $100k later this week pic.twitter.com/DLNsgT3kSP

— Daniel Negreanu (@RealKidPoker) September 4, 2017
When it's all laid out, it seems to be a great spot for Negreanu. His maximum risk is $50,000, as the bet is one-to-one, but should he win – even if he gets no more action for the series – Negreanu's payday for the 18:1 bet would be $900,000.
He's even hinted that "due to popular demand" he may up the maximum to $100,000.
Jacket bets aside, Negreanu's number one frenemy, the fourteen-time WSOP bracelet winning Phil Hellmuth was also interested in booking some side action with Kid Poker. The feeling was mutual.
Why don't you just book me at Poker Masters? If I win $4 million, pay me $4M. If I lose $200,000, I'll pay you $200,000? https://t.co/MYKYxObhhW

— phil_hellmuth (@phil_hellmuth) September 4, 2017
I offered to book 100% of @phil_hellmuth PokerMasters action and sell 50% of it. Ball is in his court to punish me for MILLIONS!!!

— Daniel Negreanu (@RealKidPoker) September 4, 2017
Fans will be able to watch much of the action as portions of all five events, including featured and final tables will be streamed over on PokerGO. The Poker Masters Purple Jacket will be awarded at the conclusion of the fifth event on September 20.