You've all heard of Bobby's Room at the Bellagio in Las Vegas, named after the legendary Bobby Baldwin, a four-time World Series of Poker (WSOP) bracelet winner and member of the Poker Hall of Fame. You have also probably heard of the Ivey Room at Aria, a newly opened high-stakes poker area named in honor of the seventh place finisher in last year's Main Event, Full Tilt Pokerpro Phil Ivey. Now, there is Daniel's Room, which is available exclusively on the virtual felts of PokerStarsand fronted by sponsored pro Daniel Negreanu.

Text found on PokerStars' website outlines a few reasons why you'd want to hit the felts against top competition in Daniel's Room: "This is your chance to play against the man himself and other high-stakes players in the ultimate test of poker skill. What's more, any player that impresses Daniel may even get invited to take part in a future PokerStars TV show." The tables also allow observers if the action inside is a little rich for your blood.
All tables in Daniel's Room spread six-max No Limit Hold'em and offer $20/$40 with a $10 ante, $50/$100 with a $25 ante, and $100/$200 with a $50 ante. There's a minimum buy-in of 100 big blinds and a maximum buy-in of 250 big blinds to ensure healthy action around-the-clock. To locate Daniel's Room, click "Hold'em," "No Limit/Pot Limit," and "High" in the PokerStars lobby. Each table has a small "DR" symbol next to it to help you differentiate it.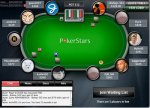 We're writing this article in the middle of the afternoon ET on a Thursday and, so far today, the action in Daniel's Room is pretty scarce. PokerStars member Sussie Smith is seated alone with $20,000 at the $50/$100 six-max table. Also seated with 200 big blinds is Halozination. In addition, tjbentham has his bankroll spread across three tables in the high-stakes area.
Presently, a total of eight tables make up Daniel's Room, two $20/$40 tables, two $100/$200 tables, and four $50/$100 tables. Negreanu has appeared on every season of the GSN cash game series "High Stakes Poker" and also fronts the PokerStars.net-backed "Million Dollar Challenge." The latter series, which airs on Fox, will return during football season for a second cycle. A 9/11 veteran was the big winner on the first run of "Million Dollar Challenge," which featured Negreanu coaching amateurs against PokerStars pros with $1 million on the line.
Negreanu (pictured) also appears on the first installment of the PokerStars "Big Game," which airs on Fox in late night starting next week. The daily show features a $100,000 buy-in cash game similar to "High Stakes Poker" and pits five pros against one "Loose Cannon" amateur. The lone amateur at the table, who qualified via PokerStars, can keep whatever winnings he or she amasses, making the eight-week series potentially quite memorable.
Negreanu cashed nine times at the 2009 WSOP in Las Vegas and London. On the other side of "The Pond," the PokerStars pro took second in the WSOP Europe Main Event for £495,000. PokerStars accepts real money action from the United States and is the world's largest online poker site. Its stable of pros includes many members of the online poker world, including 2009 WSOP Main Event champ Joe jcada99Cada, Jason treysfull21Mercier, and 2007 Main Event final table member Hevad RaiNKhANKhan.
Visit PokerStarstoday. We'll see you in Daniel's Room.