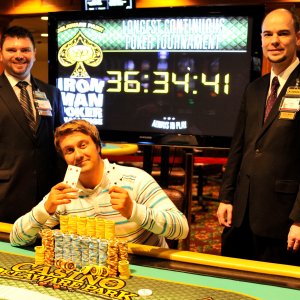 On Monday morning at 12:57am Eastern Time, Delaware Park wrapped up its Iron Man Poker Challenge. The tournament, which successfully broke the Guinness World Record for Longest Continuous Poker Tournament, stretched for a colossal 36 hours, 34 minutes, and 41 seconds, or a little over a day-and-a-half. It wasn't an American who won the event, however, as the Czech Republic's Peter Konas (pictured) came away with the victory. Besides etching his place in the record books, he earned $27,000.

By the way, if you're from the Czech Republic, make sure to check out PocketFives' all-new Czech Republic poker community. You can bask in your country's win there.
The Iron Man tournament began on August 25th at Noon Eastern Time in the Delaware card room. When registration had closed, 192 people showed up to create a prize pool of just over $100,000. The top 18 players landed in the money, with a minimum payout of $1,610 up for grabs and the top three finishers securing five-figure paydays. One hour into the event, two people had fallen by the wayside and were eliminated.
The Iron Man Poker Challenge wasn't without some drama, however, as the chip leader received several penalties along the way. Text found on the Delaware poker room's website explained, "After receiving a one-round penalty for prematurely exposing his hand, the chip leader has been sent on a nine-hand penalty." His response, rather comically in a tournament of an Iron Man nature, "I guess this is a good time for a dinner break."
Ten-and-a-half hours into the unique tournament, there were still 100 players remaining. When 50 were still standing, the survivors took extraordinary measures in order to keep alert enough to break the record for the Longest Continuous Poker Tournament: "It seems as if the preferred method of staying awake tonight is standing up at one's seat and walking around a few feet until the next hand is dealt. Although, there are numerous Red Bull cans and coffee cups around the poker table tonight, so the tried and true method of caffeine intake is still in use."
Just over 27 hours into the Iron Man tournament, the bubble popped in style, as a memorable ended matters for one unlucky player. Delaware Park's website recounted, "The small stack had been called by three additional players. The small stack had A-K and was beaten out once the cards were dealt, which left us with 18." The players consolidated into two tables and the race toward a $27,000 payday and the title of Iron Man champion was on.
When Delaware Park attempted the Guinness World Record for Longest Continuous Poker Tournament in 2011, the final table was set 24 hours into the event. This year, it took another four-and-a-half hours for that milestone to occur. At the 36-hour mark, players and casino staff alike celebrated a brand new world record.
Given that the final three players left in the tournament had been with each other for nearly a day-and-a-half, one would think they would know each other's pet peeves, favorite sports teams, and pets' names in and out. Not so in this tournament, however: "The remain players experienced a lighthearted moment when they realized they have been playing together for almost 34 hours straight and didn't know each other's names."
The Guinness World Record was broken during three-handed play and, ultimately, the game stretched for over 36 hours.
You might recall that earlier this month, PocketFives featured an interview with U.K. player Barry Denson (pictured), who broke Phil Laak's poker endurance record by playing for 120 hours and 20 minutes, five hours longer than Laak's mark. At the time, Denson still needed to file his paperwork with Guinness officials in order to have his record officially recognized. Delaware Park's claim to fame appears to be for a completely different feat, as Denson's competition rotated throughout his tournament.
Check out Delaware Park's blog for more details.