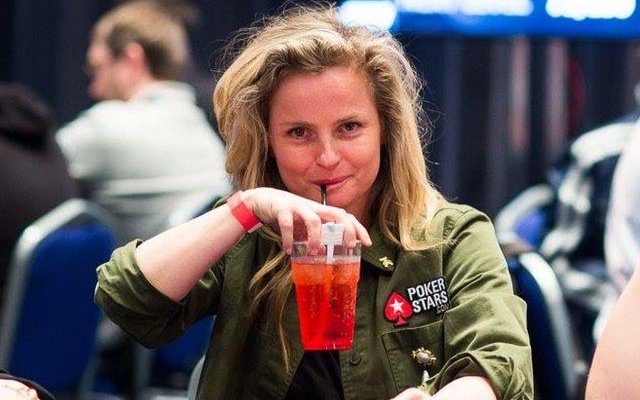 Three Olympic medals – one gold, one silver, one bronze. An appearance in the finals of the Netherlands singing competition "It Takes 2." A win in the reality series "Expeditie Robinson," a Dutch equivalent of "Survivor." And now a poker career that's taken her around the globe.

Yet through all of it, Fatima Moreira de Melo has remained as grounded as it gets, despite the fact she's enjoying kobe beef ravioli and a decadent array of mozzarella cheeses at a restaurant called Mozza in Monaco.
She's talkative, loves binge-watching television shows like "Nashville" and "Say Yes to the Dress," and in many ways she's an Average Joe, albeit with three Olympic medals in field hockey. She's an only child, vertically challenged, and one of the fiercest competitors you'll ever meet.
"You learn that all you have is yourself," de Melo said. "Whatever you have or whatever you don't have doesn't really matter that much. I can be in Monaco and I can win some cash, but it doesn't make me better or worse than anyone else. I've always seen it that way, but more so the older I get."
Some poker players – not naming any names (Phil Hellmuth) – have big heads. And the public seems to embrace that, at least to a limited degree. But de Melo is the opposite. Her Twitter feed isn't full of name-dropping and pictures of courtside seats. Instead, it's all about poker and her other endeavors.
"Ego, a lot of the time, comes from insecurity," she said. "I'm a very confident person. Some people might think of that as arrogance, but it's not and I don't mean it that way. I know what I can do and I know what I can't do and I'm comfortable with myself. That's all it is. I don't need fake boobs. I don't think I'm too short to walk in sneakers. I don't care."
She called her silver medal at the Olympics in Athens "really disappointing," and said her bronze four years before that was "frustrating." Yet in 2008 in China, she stood atop the podium and received a gold medal, the pinnacle of international sports and a moment she'll remember for the rest of her life.
"Life, in the end, is about acceptance, and you learn that in poker," de Melo said. "I think it's funny when people can't handle bad beats or can't handle getting out-run by the river. I'm happy with where I am and who I am. I'm also interested in people. I'm interested to know where people are from and what they're doing, and that's what I love about being on the poker circuit. You meet so many people from so many different places. You learn so much and you see things from different perspectives. I find that interesting."

De Melo's background has contributed to being grounded. Her life has been about embracing other cultures, appreciating other types of people, and, at the same time, discovering who she is. She's one of the faces of Right to Play, which transforms the lives of children and young people through sport and play. She's made it a point to leave the world better than she found it.
"My dad is Portuguese," de Melo said as she adds more sparking water to a pool of grenadine. "My mom is Dutch. I've been brought up in two different cultures, so I'm used to different influences. A lot of my friends in high school were half-something too. It created more openness toward other people because you're always adjusting and adapting and you don't mind that. That's what I do in my job. It's funny. I'm adapting all the time."
Also helping to ground her, at least when they get to see each other, is her better half, boyfriend Raemon Sluiter, whom she talks about with a smile from ear to ear. They're together about half the year and de Melo is sometimes (loudly) on the rail when Sluiter's tennis protégé is competing. She's even been told to keep her voice down a bit when she's railing.
"He likes his habits," de Melo said. "He's not very adventurous even though he travels the whole world as a tennis coach. What it does for me is that I'm flexible. I can go left. I can go right. It doesn't really matter. I like different things and new things. Because he's happy being at home, watching soccer on TV, and being with me, it makes me really calm. With my ex-boyfriend, he always wanted to do stuff. It was fun too, but it didn't make me calmer, and I'm already very excited all the time. It's nice to relax sometimes."
De Melo and other PokerStars pros will soon descend upon Las Vegas for the 2016 World Series of Poker, which starts at the end of the month. As has been the case at other tour stops, she'll spend at least part of her trip playing tennis with fellow pro Vanessa Selbst.
"Last year in Vegas was the first time I really felt at home because Vanessa and I were playing tennis each morning with a pro," de Melo said. "It felt more like I had a routine instead of just poker. Poker can be pretty lonely if you don't know anyone. That's something you do for yourself. It's nice to do something else like tennis. I'm into sports and it's a nice routine to have. It's nice to be outside for a bit too. It makes it feel more like home."

"I'll be playing some of the smaller events and then there's a tag team event that I'm going to play with Leo Margets. She's amazing. She's one of my best friends on the tour," de Melo said of her WSOP plans.
"We already saw you can alternate any hand. I'm looking forward to that because it's something new and something fun. I like to get five tournaments in before the Main Event. I don't want to be there for the whole series because I'll get worn out. The first year I went there, I went for the whole time. I did well, but by the time the Main Event started, I was done."
Also part of staying grounded and remaining calm when she plays poker is a morning routine. Tennis is part of it, and you'll also find her partaking in one nine-letter tradition: breakfast. And not the all-day McDonald's kind.
"I always eat breakfast in the morning," she said. "And get some bananas from the breakfast bar to take with me when I play. I get some boiled eggs. I have some carbs and some protein. It gets me through the day. And a water bottle. Maybe a Quest bar or something."
In addition to fueling her body, breakfast serves as a reality check of sorts, a time for her to take a deep breath and focus on whatever challenges the day may bring.
"I want to have breakfast and chill before a poker tournament," she said. "If I'm with someone who is really energetic like I am, I need to shut myself off. If I don't, I'll bluff right away in the first level. Then, I'll spew off chips unnecessarily. But if I sit down calmly, then it's all good. My state of mind is very important when I start a tournament."