Just when you thought it couldn't get any worse for Full Tilt Poker, which had its gaming license suspended by the Alderney Gambling Control Commission (AGCC) back in June, the U.S. Department of Justice asserted on Tuesday that the online poker room was "a massive Ponzi scheme against its own players," according to Forbes, the Wall Street Journal, and a U.S. Government filing. This time, the Feds have singled out Howard Lederer, Chris Ferguson, and Rafe Furst.

In a Justice Department statement sourced by Forbes on Tuesday, U.S. Attorney Preet Bharara, who oversaw the Black Friday indictments five months ago, argued, "Full Tilt was not a legitimate poker company, but a global Ponzi scheme. Full Tilt insiders lined their own pockets with funds picked from the pockets of their most loyal customers while blithely lying to both players and the public alike about the safety and security of the money deposited." Allegedly, Full Tilt paid its executives and pros $443 million over the last four years.
Check out the thread in the Poker Sites forum.
A Department of Justice memo posted on Poker Strategy noted that Full Tilt "defrauded its poker players by misrepresenting to players that funds deposited into their online player accounts were secure and segregated from operating funds, while at the same time using player funds to pay out hundreds of millions of dollars to Full Tilt Poker owners. Full Tilt Poker was able to accomplish this massive fraud, in part, because it illegally conducted business in the United States, but maintained its personnel, operations, assets, and accounts principally overseas" in Ireland.
The amended filing charges that Full Tilt Poker owed $390 million to players around the world as of March 2011, but only had $59 million on-hand with which to do so. The rest, in addition to purportedly being paid out to owners, was used for such purposes as operating expenses.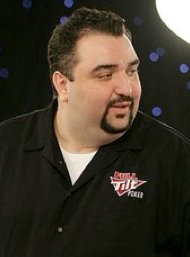 The filing adds that the deception could have come from the company's highest ranks: "In or about March 2008, [Ray Bitar (pictured) and Howard Lederer] advised a Full Tilt Poker employee that Full Tilt Poker could represent to players that Full Tilt Poker kept all of its player funds in segregated accounts and that funds would be available for withdrawal by players at all times." Several form e-mails from Full Tilt Poker support staff are included; each asserts that player funds were kept in separate accounts at all times.
A thread that appeared in a poker forum, presumably TwoPlusTwo, appears in the filing, as does a response from Full Tilt Poker representative ftpdoug that claimed, "Players' funds at Full Tilt Poker are kept in several deposit accounts throughout the world, all of which are separate and distinct from our operating accounts."
The U.S. Government charges that Bitar received $41 million, a portion of which was deposited into a Nat West bank account numbered GB81 RBOS 6095 4234 0877 66. Lederer, meanwhile, received $42 million, a portion of which was deposited into a Wells Fargo bank account numbered 7655741861. Ferguson (pictured) allegedly topped both Lederer and Bitar by taking in $85 million, but only $25 million was actually paid to the Full Tilt Poker pro.
Furst received $11 million in distributions, while the other owners received the balance of the $443 million, according to the U.S. Government. The filing continues, "These ownership distributions continued at a rate of approximately $10 million per month when, by at least the summer of 2010, Full Tilt Poker's management was aware that Full Tilt Poker was having difficulty collecting funds from U.S. player accounts."
The filing concludes by saying that the owners of Full Tilt have made no attempt to repay the $300 million owed to players around the world and, "As of September 19th, 2011, Full Tilt Poker's website stated that players' funds were 'safe and secure.'" A shortfall of around $130 million was reportedly built up for U.S. players alone after Full Tilt credited members' accounts with funds before actually withdrawing from players' bank accounts.
Meanwhile, the online poker community continues to wait for the results of a closed door meeting between Full Tilt Poker and AGCC officials in London. The hearing, which has apparently spilled over into a second day, could reveal even more of the inner workings of Full Tilt Poker.
Read the entire Forbes story, Wall Street Journal story, and amended complaint.