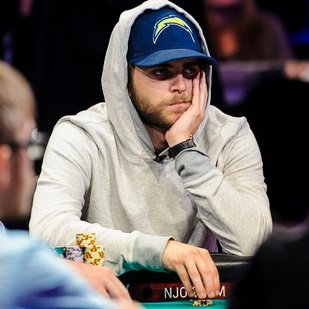 On the 33rd hand of the 2014 World Series of Poker Main Event, Felix Stephensen (pictured) muscled the chip lead away from fellow EuropeanJorryt Van Hoof. On a board of A-5-4-K-7, Stephensen fired out a bet of four million and Billy Pappas got out of the way. Just like that, we had our first November Nine chip lead change. Stephensen had Q-2, while Pappas had pocket eights. The pot was worth 8.25 million.

—
PocketFives' WSOP coverage is brought to you by William Hill Poker, one of the largest skins on the iPoker Network. The poker room offers a generous welcome package including a 200% deposit bonus up to $2,000 and a superb VIP program. Visit William Hill today!
—
We have seen a ton of premium pocket pairs after only a dozen hands, including multiple aces and multiple pocket jacks. We have also seen plenty of big-ace hands. However, the action, for the most part, has been fairly tepid, with no critical short stack and no dominant stack to push the table around.
One of the pots laced with big hands saw Van Hoof raise to one million pre-flop and Dan Sindelarcall with pocket sevens. Martin Jacobson, who had 10-10, came along to a flop of Q-6-7. Sindelar, the second player to flop a set of sevens, bet 1.4 million after the other two players checked and Jacobson and Van Hoof got out of the way.
ESPN commentators Norman Chad, Lon McEachern, and Antonio Esfandiariall praised Jacobson for his discipline in the early going. Also making an impression was Sindelar, whom Alex AssassinatoFitzgerald observed on social media seems "calm, cool, and collected."
In one video package, Mark Newhouse (pictured) told ESPN, "This year [the final table is] softer… This year, I don't know anybody from before this tournament… I have a lot of chips and I like my chances." The crowd summarily booed after the package was shown in the Penn and Teller Theater.
Kara Scott, reporting for ESPN, told viewers, "Bruno Politano said he was going to paint Las Vegas green and yellow." He estimated his 150 railbirds each spent $4,000, or $600,000 total. That's nearly ninth place money and demonstrates the dedication the Brazil poker community has. Politano has acted fairly deliberately at every juncture, with Chad calling him the "human rain delay."
Want the latest poker headlines and interviews? Follow PocketFives on Twitterand Like PocketFives on Facebook. You can also subscribe to our RSS feed.