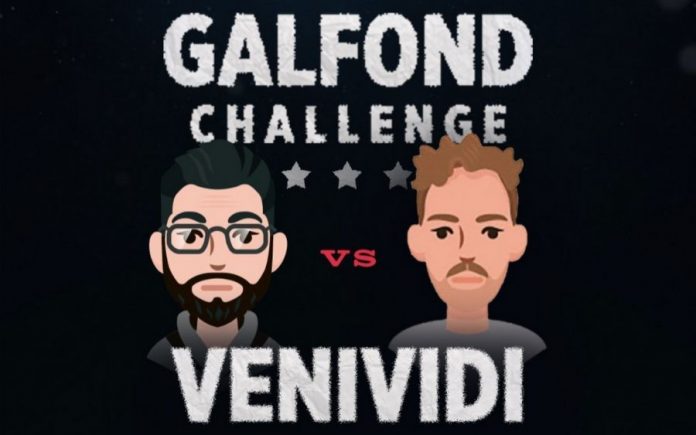 Phil Galfond and 'VeniVidi1993' resumed their 'Galfond Challenge' match on Wednesday, following a hiatus of more than two weeks. Down more than €900,000 entering Wednesday's session, Galfond booked a win of more than €180,000.
With 574 hands played on Wednesday, the Galfond Challenge between Galfond and 'VeniVidi1993' is now 10,501 hands complete. The two are scheduled to play 25,000 hands, with Galfond putting up €200,000 in side action to the €100,000 of 'VeniVidi1993.' In the latest session, Galfond finished €183,481.38 to the good. Following the completion of Wednesday's session of €100-200 PLO on Run It Once Poker, Galfond's deficit to 'VeniVidi1993' stands at €716,758.79.
After Wednesday's session was done, Galfond hopped on the stream to talk with commentators David Tuchman and Henry Kilbane. When asked about what he did to prepare himself to get back into the challenge against 'VeniVidi1993,' Galfond once again brought up how he spent time playing $25-50 heads-up Zoom pools, which he discussed in a recent interview with PocketFives.
"What I think that did for me is, I was playing a very tough regular here, day in and day out, but there's a dynamic that gets created when you're losing everyday," Galfond said. "Your opponent's confident, you're not confident, you're scared in some spots. They kind of have the edge on you in the psychological component of the game, and so I wanted to play against other good players who there wasn't that dynamic with because we were starting fresh. Obviously it was good practice for me, but it was also good to show myself that I can play with very strong competition and it's just getting over the hump and out of the routine of losing and having [VeniVidi1993] a step ahead of me is I think what I needed."
Galfond admitted that the losing was "definitely" getting to him, suggesting that the constant losing to 'VeniVidi1993' was causing him to play bigger pots than normal in some spots while shying away in others.
"The break isn't responsible for me coming back and having a huge day like this," Galfond added. "It's only responsible for me playing a little bit better than I was before, and obviously I was fortunate today to have some coolers go my way and win some all-ins."
Start Playing Poker In North America!
Plenty of good things happened to Galfond on Wednesday, including a win of the following pot worth almost €60,000.
With the board reading
, 'VeniVidi1993' checked and Galfond fired a pot-sized bet of €10,799. 'VeniVidi1993' came back with a check-raise to €24,312.63 and was all in. Galfond called to bring the pot up to €59,424.26.
At showdown, Galfond showed a heart flush with the
. 'VeniVidi1993' had the
 and was no good. At the time this hand played out, Galfond was winning on the session but only up about €14,000. This pot worth near €60,000 really helped him build towards the massive winning session he secured.
Not too long after that pot, Galfond and 'VeniVidi1993' played another big one for stacks, this time to the tune of €39,999 in the middle.
With €10,797 in the middle on the
 board, 'VeniVidi1993' led for a full pot-sized bet and left himself with just €3,804 behind. Galfond raised to put 'VeniVidi1993' all in, and 'VeniVidi1993' made the call.
Galfond had the nuts with the
for a Broadway straight. 'VeniVidi1993' had the
and was looking for the board to pair to make a full house. The
on the river didn't pair the board and Galfond was able to score the pot.
A third big hand that went Galfond's way was the following one, in which he got paid off with a seven-high straight to haul in a €46,858.94 pot.
On the
 board, there was €16,795.34 in the middle and 'VeniVidi1993' checked. Galfond bet the full pot, which was enough to put 'VeniVidi1993' all in, as 'VeniVidi1993' had €15,031.80 behind. 'VeniVidi1993' made the call.
'VeniVidi1993' showed the
, but that hand was no good against Galfond's
.
One final hand we'll recap is the following one that took place when there was a slight issue with the stream. It was a €41,197 pot won by Galfond with quads.
Galfond started the action with a raise on the button to €600 and 'VeniVidi1993' made the call to see the flop come down
. After 'VeniVidi1993' checked, Galfond bet €299.75. 'VeniVidi1993' raised to €1,216.99 and Galfond called. The
came on the turn and 'VeniVidi1993' bet €3,632.98, which was a pot-sized bet. Galfond called and the river completed the board with the
.
On the river, 'VeniVidi1993' bet the full pot again, this time for €10,898.94, and Galfond raised to put him all in. 'VeniVidi1993' had €4,250.09 behind and called with the
for a flopped full house. Unfortunately for him, Galfond had flopped quads with the
and scooped the pot.
The last time these two played was back on February 9. Galfond recorded a six-figure loss that day and then suspended the match a couple of days later. At that point, Galfond and 'VeniVidi1993' had played 15 sessions and Galfond had only booked wins in two of them. One of those wins was only worth a small €2,615.26.
Galfond's second winning session against 'VeniVidi1993' came on February 6 and was worth a promising €87,940.91. The winning session gave Galfond and his supporters hope that the tides were turning, but what followed over the next three sessions was a bashing that amounted to a total loss of €419,016.77 over the next three times these two played. That's ultimately what pushed Galfond to put the match on hold.
Challenge Results To Date
Hands Played
Daily Winner
Amount Won
Day 1 (Jan. 22)
655
VeniVidi1993
€72,572.68
Day 2 (Jan. 23)
715
Phil Galfond
€2,615.26
Day 3 (Jan. 24)
557
VeniVidi1993
€84,437.52
Day 4 (Jan. 25)
581
VeniVidi1993
€17,544.87
Day 5 (Jan. 27)
726
VeniVidi1993
€155,063.52
Day 6 (Jan. 28)
703
VeniVidi1993
€13.31
Day 7 (Jan. 30)
823
VeniVidi1993
€52,057.13
Day 8 (Jan. 31)
940
VeniVidi1993
€60,743.37
Day 9 (Feb. 1)
446
VeniVidi1993
€

12,706.51

Day 10 (Feb. 3)
696
VeniVidi1993
€100,993.30
Day 11 (Feb. 4)
741
VeniVidi1993
€15,647.36
Day 12 (Feb. 6)
622
Phil Galfond
€87,940.91
Day 13 (Feb. 7)
470
VeniVidi1993
€267,949.70
Day 14 (Feb. 8)
593
VeniVidi1993
€48,473.73
Day 15 (Feb. 9)
659
VeniVidi1993
€102,593.34
Day 16 (Mar. 4)
574
Phil Galfond
€183,481.38
–
–
–
–
Total
10,501
VeniVidi1993
€716,758.79
What's Next for the Galfond Challenge?
Galfond and 'VeniVidi1993' are back in action and the next session is scheduled for Thursday, March 5, 2020, starting at 11 a.m. ET.
Be sure to stay tuned to PocketFives for more on the Galfond Challenge.