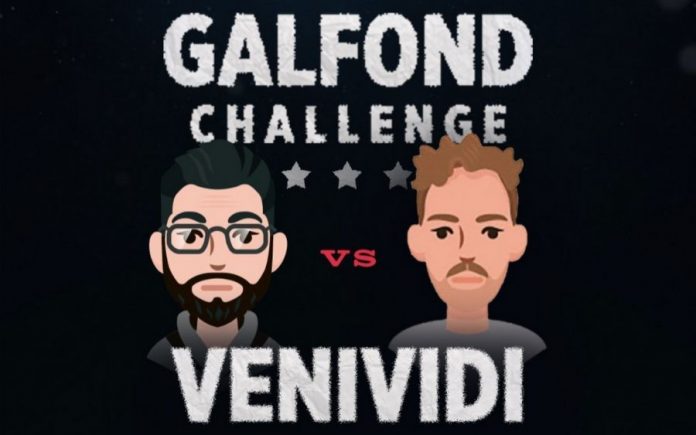 The latest session of the 'Galfond Challenge' between Phil Galfond and 'VeniVidi1993' saw Galfond come out on top. Depending on whose side you're on, it could have been better for Galfond or worse for 'VeniVidi1993.' The end result was a €27,198.94 win for Galfond.
The two played 555 hands of €100-200 PLO on Run It Once Poker on Friday, bringing the total number of hands played up to 11,638. During Friday's session, Galfond was up around €130,000 at some points, but 'VeniVidi1993' pulled back a lot in the final 100 hands or so.
"It was an unpleasant run of cards at the end, but honestly I feel pretty good today," Galfond said after to David Tuchman, who handled hosting duties for the Twitch stream of the session. "I'm happy with how I played, which is the most important thing when you have 14,000 hands ahead.
"I'm human. I was disappointed, but like I said, the most important thing at the end of one of these sessions for me is how I feel I played, and I felt good today. Overall, happy, and I mean, I didn't lose so I can't be that sad."
In the end, a win is a win and Galfond having picked up €27,198.94 puts him down a total of €711,131.36 in the match against 'VeniVidi1993.'
One of the big hands that helped Galfond build his stack on Day 18 of the Galfond Challenge was the following €54,155.84 hand. It involved Galfond picking off a big bluff from 'VeniVidi1993.'
On the
 board, Galfond fired a pot-sized bet of €7,198 as the first player to act. 'VeniVidi1993' raised to €28,792, which was enough to put Galfond all in. Galfond had €16,280.92 behind after he bet.
After some thought, Galfond made the call. 'VeniVidi1993' revealed the
for two pair, queens and fours. Galfond had the
 for a spade flush and won the pot.
Another hand that went Galfond's way was the following one, in which all the money went in on the turn and Galfond made a flush.
With the flop reading
, both players checked to see the
land on the turn. 'VeniVidi1993' led with a pot-sized bet of €3,599, Galfond raised to €14,396, and 'VeniVidi1993' moved all in for €18,200. Galfond called.
Galfond showed the
for a set of fours and a flush draw. 'VeniVidi1993' had the
 for a turned straight. The river was the Kc to give Galfond a winning flush and ship the €39,999 pot his way.
Eventually, 'VeniVidi1993' started to pull things back, and the following hand was a big starting point to his comeback.
Galfond raised to €600 on the button, 'VeniVidi1993' made it €1,800 to go, and Galfond called. The flop was
 and 'VeniVidi1993' bet €1,835.49. Galfond raised to €4,800, 'VeniVidi1993' reraised to €17,999, Galfond shoved, and 'VeniVidi1993' called off his last €201 to create a €39,999 pot.
Galfond had the
and 'VeniVidi1993' had the
. The turn was the
and the river the
. 'VeniVidi1993' stayed in front and won the hand with a set of kings.
As the match was nearing its end, 'VeniVidi1993' scooped another big pot, this time worth €72,023.22. It also involved him holding a set of kings.
After Galfond checked the
 board, 'VeniVidi1993' bet €2,753.24 into a pot of €5,398.50. Galfond check-raised to €13,658.22 and 'VeniVidi1993' made the call.
The river was the
and the pot stood at more than €32,000. Galfond moved all in for €19,654.14 and 'VeniVidi1993' made the call with the
for a set of kings. Galfond had the
 for a set of tens and the pot was sent to 'VeniVidi1993.'
Challenge Results To Date
Hands Played
Daily Winner
Amount Won
Day 1 (Jan. 22)
655
VeniVidi1993
€72,572.68
Day 2 (Jan. 23)
715
Phil Galfond
€2,615.26
Day 3 (Jan. 24)
557
VeniVidi1993
€84,437.52
Day 4 (Jan. 25)
581
VeniVidi1993
€17,544.87
Day 5 (Jan. 27)
726
VeniVidi1993
€155,063.52
Day 6 (Jan. 28)
703
VeniVidi1993
€13.31
Day 7 (Jan. 30)
823
VeniVidi1993
€52,057.13
Day 8 (Jan. 31)
940
VeniVidi1993
€60,743.37
Day 9 (Feb. 1)
446
VeniVidi1993
€

12,706.51

Day 10 (Feb. 3)
696
VeniVidi1993
€100,993.30
Day 11 (Feb. 4)
741
VeniVidi1993
€15,647.36
Day 12 (Feb. 6)
622
Phil Galfond
€87,940.91
Day 13 (Feb. 7)
470
VeniVidi1993
€267,949.70
Day 14 (Feb. 8)
593
VeniVidi1993
€48,473.73
Day 15 (Feb. 9)
659
VeniVidi1993
€102,593.34
Day 16 (Mar. 4)
574
Phil Galfond
€183,481.38
Day 17 (Mar. 5)
582
VeniVidi1993
€21,571.51
Day 18 (Mar. 6)
555
Phil Galfond
€27,198.94
–
–
–
–
Total
11,638
VeniVidi1993
€711,131.36
What's Next for the Galfond Challenge?
With 11,638 hands played of the 25,000 scheduled, Galfond and 'VeniVidi1993' are more than 46% of the way through their challenge. The next session is scheduled for Saturday, March 7, 2020, starting at 11 a.m. ET.
Be sure to stay tuned to PocketFives for more on the Galfond Challenge.