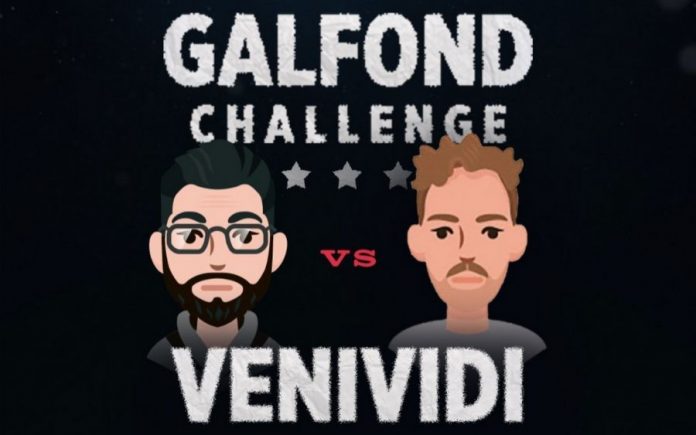 Amid all the talk surrounding the coronavirus (COVID-19) and its effect on the poker world, another day of the 'Galfond Challenge' between Phil Galfond and 'VeniVidi1993' took place on Tuesday. The session lasted 576 hands and resulted in another Galfond victory.
This latest session of €100-200 PLO on Run It Once Poker saw Galfond pick up a small win to the tune of €3,766.94. It wasn't much of a victory, but a win is a win and it helped Galfond trim the deficit to 'VeniVidi1993.' As things stand 13,418 hands through the 25,000-hand match, 'VeniVidi1993' is up €588,542.12.
Start Playing Poker In North America!
On Tuesday, Galfond was up for the large majority of the first 450 hands or so. During that time, he was up as much as €40,000 at some points. Later in the match, it was 'VeniVidi1993' who pulled out in front and took his turn at leading the session by about €40,000. Galfond battled to the end to finish as the session's winner.
At about 50 hands into the session, Galfond scooped the following €32,373 pot with a full house.
On the
 board, 'VeniVidi1993' bet €3,597 into a pot of the same amount. Galfond raised to €14,388 and 'VeniVidi1993' tank-called.
Galfond showed the
 for a full house, deuces over jacks, and 'VeniVidi1993' mucked his hand.
Around 200 hands later, when Galfond was up around €40,000 on the session, the two played the following €40,397 pot that went the way of 'VeniVidi1993.'
With €5,398.50 in the pot on the
board, Galfond led with a pot-sized bet and 'VeniVidi1993' made the call. The
river completed the board and Galfond bet enough to put 'VeniVidi1993' all in. 'VeniVidi1993' had €12,100.75 left in his stack and called.
Galfond showed the
for a bluff and 'VeniVidi1993' had the
 for the winner with a Broadway straight.
Later on, Galfond got a big one back in his favor when he won the following €52,409.98 pot.
'VeniVidi1993' bet €1,835.49 on the
board and Galfond raised to €4,800. 'VeniVidi1993' made the call. The turn was the
and 'VeniVidi1993' fired a bet of €13,199. Galfond raised all in for €19,605.49 and 'VeniVidi1993' called.
'VeniVidi1993' revealed the
and Galfond had the
. The river was the
to give both players a straight, but Galfond's eight-high straight was the better of the two and he won the pot.
Challenge Results To Date
Hands Played
Daily Winner
Amount Won
Day 1 (Jan. 22)
655
VeniVidi1993
€72,572.68
Day 2 (Jan. 23)
715
Phil Galfond
€2,615.26
Day 3 (Jan. 24)
557
VeniVidi1993
€84,437.52
Day 4 (Jan. 25)
581
VeniVidi1993
€17,544.87
Day 5 (Jan. 27)
726
VeniVidi1993
€155,063.52
Day 6 (Jan. 28)
703
VeniVidi1993
€13.31
Day 7 (Jan. 30)
823
VeniVidi1993
€52,057.13
Day 8 (Jan. 31)
940
VeniVidi1993
€60,743.37
Day 9 (Feb. 1)
446
VeniVidi1993
€

12,706.51

Day 10 (Feb. 3)
696
VeniVidi1993
€100,993.30
Day 11 (Feb. 4)
741
VeniVidi1993
€15,647.36
Day 12 (Feb. 6)
622
Phil Galfond
€87,940.91
Day 13 (Feb. 7)
470
VeniVidi1993
€267,949.70
Day 14 (Feb. 8)
593
VeniVidi1993
€48,473.73
Day 15 (Feb. 9)
659
VeniVidi1993
€102,593.34
Day 16 (Mar. 4)
574
Phil Galfond
€183,481.38
Day 17 (Mar. 5)
582
VeniVidi1993
€21,571.51
Day 18 (Mar. 6)
555
Phil Galfond
€27,198.94
Day 19 (Mar. 7)
638
Phil Galfond
€26,018.41
Day 20 (Mar. 9)
566
Phil Galfond
€92,803.89
Day 21 (Mar. 10)
576
Phil Galfond
€3,766.94
–
–
–
–
Total
13,418
VeniVidi1993
€588,542.12
What's Next for the Galfond Challenge?
Next up fo the Galfond Challenge between Galfond and 'VeniVidi1993' is a session on Wednesday, March 11, starting at 12 p.m. ET.
The match is currently 13,418 hands complete. The two are scheduled to play 25,000 hands, with Galfond putting up €200,000 in side action to the €100,000 of 'VeniVidi1993.'
Be sure to stay tuned to PocketFives for more on the Galfond Challenge.