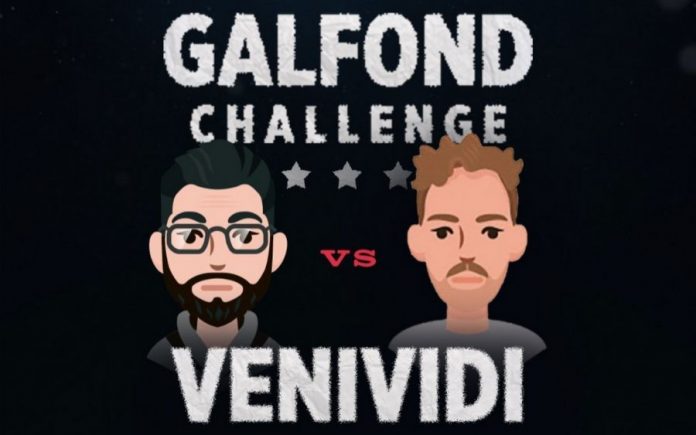 On Friday, March 13, Phil Galfond and 'VeniVidi1993' continued their 'Galfond Challenge' match by playing another 628 hands of €100-200 PLO on Run It Once Poker. Galfond came out on top of the session with a €19,099.65 win.
Galfond and 'VeniVidi1993' have no played 15,200 hands of their 25,000-hand match. 'VeniVidi1993' is still leading overall by a large margin, but Galfond has trimmed the deficit from more than €900,000 to €634,087.02. The two have less than 10,000 hands to go to complete the challenge, with Galfond risking €200,000 in side action to the €100,000 of 'VeniVidi1993.'
Start Playing Poker In North America!
Galfond starting off the winning on Friday almost immediately. Just a few hands into the session, he won the following pot without having to go to a showdown.
On the
board, there was €5,398.50 in the middle. Galfond was first to act and bet the pot. 'VeniVidi1993' made the call to see the
pair the board on the river. Galfond fired all in for €13,811.24. 'VeniVidi1993' folded and Galfond picked up the pot.
A little bit later, Galfond won another big one, this time for €44,793.
On the
 flop, 'VeniVidi1993' led with a bet of €1,835.49 and Galfond called. The turn was the 5s and 'VeniVidi1993' fired a pot-sized bet of €7,269.98. Galfond raised the pot to €29,079.92, effectively putting 'VeniVidi1993' all in. 'VeniVidi1993' called off his last €11,491.53.
Galfond revealed the
and 'VeniVidi1993' had the
. The river completed the board with the
and Galfond scooped the pot with his two pair, eights and threes.
Shortly after that, another big one went Galfond's way. This time, he scooped a €43,193.50 pot with a full house, fours over queens.
On the
flop, 'VeniVidi1993' bet €1,835.49 and Galfond raised to €4,600. 'VeniVidi1993' made the call and the
landed on the turn. 'VeniVidi1993' fired a pot-sized bet of €12,799, with €2,398.25 behind. Galfond shoved and 'VeniVidi1993' quickly called.
'VeniVidi1993' had the
for a turned Broadway straight. Galfond had the
for a set of fours and a flush draw. The river was the
to pair the board and that gave Galfond a winning full house.
Later in the match, at about the halfway point, 'VeniVidi1993' was able to score a nice one with a king-high flush to Galfond's lower flush.
There was €7,198 in the middle on the
board and both players checked to see the
land on the river. 'VeniVidi1993' checked, Galfond bet the full pot, and 'VeniVidi1993' made the call.
Galfond had the
for a club flush, but it was the
 of 'VeniVidi1993' that was the winner of this €21,594 pot.
Challenge Results To Date
Hands Played
Daily Winner
Amount Won
Day 1 (Jan. 22)
655
VeniVidi1993
€72,572.68
Day 2 (Jan. 23)
715
Phil Galfond
€2,615.26
Day 3 (Jan. 24)
557
VeniVidi1993
€84,437.52
Day 4 (Jan. 25)
581
VeniVidi1993
€17,544.87
Day 5 (Jan. 27)
726
VeniVidi1993
€155,063.52
Day 6 (Jan. 28)
703
VeniVidi1993
€13.31
Day 7 (Jan. 30)
823
VeniVidi1993
€52,057.13
Day 8 (Jan. 31)
940
VeniVidi1993
€60,743.37
Day 9 (Feb. 1)
446
VeniVidi1993
€

12,706.51

Day 10 (Feb. 3)
696
VeniVidi1993
€100,993.30
Day 11 (Feb. 4)
741
VeniVidi1993
€15,647.36
Day 12 (Feb. 6)
622
Phil Galfond
€87,940.91
Day 13 (Feb. 7)
470
VeniVidi1993
€267,949.70
Day 14 (Feb. 8)
593
VeniVidi1993
€48,473.73
Day 15 (Feb. 9)
659
VeniVidi1993
€102,593.34
Day 16 (Mar. 4)
574
Phil Galfond
€183,481.38
Day 17 (Mar. 5)
582
VeniVidi1993
€21,571.51
Day 18 (Mar. 6)
555
Phil Galfond
€27,198.94
Day 19 (Mar. 7)
638
Phil Galfond
€26,018.41
Day 20 (Mar. 9)
566
Phil Galfond
€92,803.89
Day 21 (Mar. 10)
576
Phil Galfond
€3,766.94
Day 22 (Mar. 11)
556
VeniVidi1993
€88,465.60
Day 23 (Mar. 12)
598
Phil Galfond
€23,821.05
Day 24 (Mar. 13)
628
Phil Galfond
€19,099.65
–
–
–
–
Total
15,200
VeniVidi1993
€634,087.02
What's Next for the Galfond Challenge?
The Galfond Challenge between Galfond and 'VeniVidi1993' will continue on Saturday, March 14 starting at 12 p.m. ET.
The match is currently 15,200 hands complete. The two are scheduled to play 25,000 hands, with Galfond putting up €200,000 in side action to the €100,000 of 'VeniVidi1993.'
Be sure to stay tuned to PocketFives for more on the Galfond Challenge.