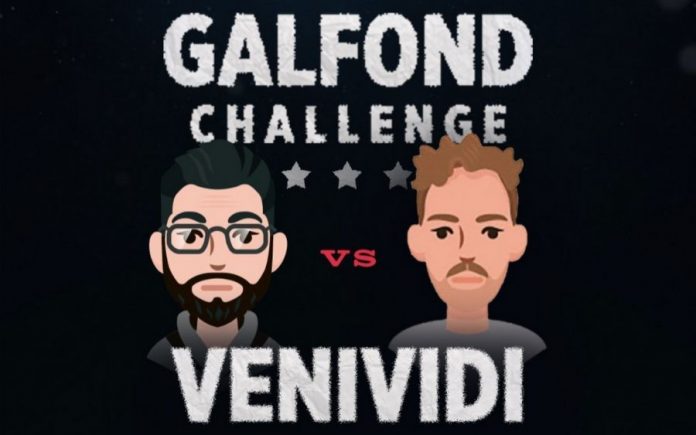 The 'Galfond Challenge' continued on Friday, with Day 3 of the match between Phil Galfond and 'VeniVidi1993.' The two played another 557 hands of €100-€200 heads-up Pot Limit Omaha on Run It Once Poker and it was 'VeniVidi1993' coming out on top with a €84,437.52 winning session.
'VeniVidi1993' is now up €154,394.94 on Galfond overall and the two have played 1,927 of the 25,000 hands they are slated to battle through. After Friday's session, Galfond joined Joe Stapleton on the Run It Once Poker Twitch channel to discuss the day.
"At the beginning, I would've said that I started off running bad, but I think I definitely was on my C game today and I think he was on his A game," Galfond said of Friday's play against 'VeniVidi1993.' "So I feel like, actually, I expected myself to get a little stronger each day but so far the opposite has happened. That happens, we all have off days, but I definitely felt like he was getting the better of me today."
Galfond said that he does worry that one off day could turn into more than just one and that any time you're off your game it brings about a few questions for what is leading to things going wrong. Galfond said that he still enjoys playing and is looking forward to booking a win, even though these first few days haven't gone his way too much.
"It's the nature of heads-up PLO," Galfond said.
Down more than €150,000 after three days of this match, Galfond has plenty of crawling out of the hole to do. He still has more than 23,000 hands to do it, but 'VeniVidi1993' won't be making it easy. Galfond said he had very little experience playing with 'VeniVidi1993' before this challenge, too, which means it might take a little longer for Galfond to adjust to his opponent's play.
"We've played a few hands of heads-up in the last year in a heads-up Zoom pool and then a reasonable amount of six-max, but not that much because he's climbed the stakes more recently and I've spent a few years off," Galfond said. "We've played a little bit, but for the most part we haven't had tens of thousands of hands together."
After every session, both sides receive hand histories of the match without hole cards, Galfond added. He said he's been reviewing these after each session and that he enjoys the process.
Speaking of hand histories, let's review some of the big hands from Day 3 of the Galfond Challenge.
The first all-in pot of the match was one worth just under €40,000 when 'VeniVidi1993' rivered a higher full house than Galfond's.
Picking up the action on the turn with a pot of €5,398.50 in the middle, Galfond bet €1,349.63 on the
board and 'VeniVidi1993' called. The river was the
and Galfond led with a bet of €4,048.88. 'VeniVidi1993' raised all in for €15,950.62 and Galfond called.
Galfond showed the
but he was no good against the
for 'VeniVidi1993.'
A big pot that went Galfond's way and was worth €45,193.34 involved the Run It Once Poker owner making a big call on the river against 'VeniVidi1993.' Here's how it went down.
On the river of a board reading
, a pot of €16,198.50 was in the middle between Galfond and 'VeniVidi1993.' Galfond bet a quarter of the pot with a €4,049.63 wager, leaving himself with €10,447.79 behind. 'VeniVidi1993' put the pressure on with a raise to put Galfond all in, but Galfond proved he could pass the test and called with the
after a bit of tanking. Galfond's two pair, queens and tens, was best against the
for 'VeniVidi1993' to give Galfond the double up.
Later in the match, Galfond ran into another full house of 'VeniVidi1993,' this time making a losing call of a pot-sized bet on the river to give 'VeniVidi1993' a €54,524.88 pot.
With a board of
on the table and €7,269.98 in the middle, 'VeniVidi1993' bet €5,452.49. Galfond called and the
hit the board on the river. 'VeniVidi1993' bet the full pot for €18,174.96 and Galfond called. 'VeniVidi1993' showed the
for sixes full of fours and Galfond mucked his hand.
Challenge Results To Date
| | Hands Played | Daily Winner | Amount Won |
| --- | --- | --- | --- |
| Day 1 (Jan. 22) | 655 | VeniVidi1993 | €72,572.68 |
| Day 2 (Jan. 23) | 715 | Phil Galfond | €2,615.26 |
| Day 3 (Jan. 24) | 557 | VeniVidi1993 | €84,437.52 |
| – | – | – | – |
| Total | 1,927 | VeniVidi1993 | €154,394.94 |
If Galfond Wins, Everyone Wins
During the Galfond Challenge, Run It Once Poker players have a chance to added rewards. Through Run It Once Poker's 'Splash the Winnings' promotion, every player on Run It Once Poker has the chance to win on any day that Galfond wins in the challenge.
During the first two weeks of the Galfond Challenge, on any day when Galfond is profitable in a match, Run It Once Poker's 'Splash the Pot' promotion will be doubled. For more information, including how you can sign up for Run It Once Poker, check out PocketFives' dedicated page for the site.
What's Next for the Galfond Challenge?
Galfond and 'VeniVidi1993' have completed 1,927 hands of their 25,000-hand challenge, so they're 7.7% of the way done. The two are scheduled to play another session on Saturday, January 25, starting at 11 a.m. ET. You can watch the day's session on the Run It Once Twitch channel, and we'll keep you updated right here on PocketFives as well.
Remember, these two are playing not only for the money at stake in each match, but also for side action that has Galfond's €200,000 up against the €100,000 for 'VeniVidi1993.' For those wondering how the side action money is being handled, Galfond did say that most of the side bet action throughout the Galfond Challenge is being handled via escrow, either in full or partial amounts.
Be sure to stay tuned to PocketFives for more on the Galfond Challenge.