Last week, we reported that shareholders of bwin.party recommended that the company's Board of Directors approve a $1.4 billion acquisition by 888 Holdings, the parent company of 888 Poker. However, not refusing to lay down and die, GVC, which had been in a bidding war with 888, has upped the ante, reportedly bidding $1.6 billion for bwin.party.

The roller-coaster ride might not be done yet.
The offer might end the involvement of Amaya Gaming, the owners of PokerStarsand Full Tilt, as the $1.6 billion bid is from GVC and Cerberus Capital Management and does not involve Amaya. bwin.party cited less risk as a reason to roll with 888 rather than GVC already.
If you're interested in the nitty-gritty details of the deal, it's worth 122.5 pence per share of bwin.party's stock, up from GVC's earlier offer of 110 pence. About a quarter of that would be given in cash and the rest would be in stock.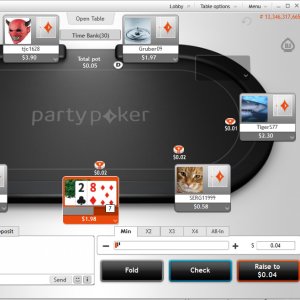 As eGaming Review explained, "The improved offer would be financed through a combination of new GVC shares issued to bwin.party shareholders and €400m provided by affiliates of New York-based Cerberus Capital Management, which is also a part-owner of Gala Coral. GVC would also raise £150m through an equity placement of new GVC shares, which would be used for restructuring costs and to finance bwin.party's current debt."
GVC and Amaya had previously submitted an offer of $1.41 billion, but bwin.party elected to go with 888's slightly lower offer instead.
As far as the latest GVC bid goes, one analyst told Reuters, "This is a real statement of intent from GVC. The proposed premium over the accepted offer by 888 is such that the bwin.party Board will probably have no choice but to reconsider its acceptance of the 888 offer. We would be surprised if 888 does not come back with a counter-offer of its own."
There have been a bundle of mergers and acquisitions in our industry as of late, including Betsson buying Europe-Bet and Ladbrokes merging with Gala Coral. GVC owns Sportingbet.
Want the latest poker headlines and interviews? Follow PocketFives on Twitterand Like PocketFives on Facebook.