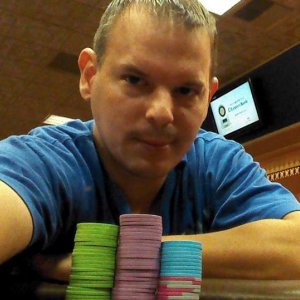 PocketFives had the opportunity to chat with DennisGaka vegaslife, who has been a member since 2013. He has been living in Nevada for over seven years and can be seen almost every day in many of the tournaments with guarantees of $500 or more. He is a grinder, making his living playing online at two of the Nevada sites, WSOP.com and Ultimate Poker.

PocketFives: Where'd you get your user name from?
vegaslife: On April 19, 2009, my daughter Eliza was born. I never would've thought in a million years I would be raising a life in Vegas. It was mind-boggling just knowing she's my little "vegaslife."
PocketFives: How or why did youstart playing online poker?
vegaslife: Back in 2007, I moved to Las Vegas from Milwaukee with a job transfer and a relative living there, so it was the perfect situation. Before going back to work, I sat around the house to kill time playing freerolls on Absolute Poker. After a week or so, the site deposited $10 into my real money account. I won a $1 MTT for $2, then entered a $20 MTT and took it down for $1,000. After I received my first check in the mail for $900, I thought it was too good to be true.
Throughout the next year or two, I was playing here and there, winning and losing, and stopped playing completely after my child was born, as I had no time to play.
PocketFives: To what do you attribute your current online success?
vegaslife: I always had a knack for strategy games, math games, and meta games. It all started when I was learning chess and card games back when I was 10. In middle school, I was on the chess team and by high school, I was grinding for money and smokes playing spades after school. Also, reading and studying a lot of poker books and videos played a huge part, as did watching and playing with the top players on the sites.
PocketFives: How do you prepare yourself before a tournament?
vegaslife: I get all of the stuff I need around me first: Red Bull, headphones, poker books, pen and paper, snacks, cell phone, etc. It can be tough to get up and grab something with four or six tournaments going at once. A lot of times, I'll make personal goals for daily, weekly, or monthly results and improvements I need to be a better player, So I like to go over my log book every day to see where am at.
PocketFives: What made you decide to choose poker as a career?
vegaslife: It almost feels like it chose me. In June of last year, I was fired from my job. I wasn't having any luck finding a new job right away and at this time Nevada had just legalized online poker. I deposited $50 onto Ultimate Poker knowing it was a possibility to make a few extra bucks while looking for work. I was grinding the Step Sit and Gos on Ultimate for a while. In a few weeks' span, I would win 100 Step 2 tickets at $0.25 each and then parley all of my tickets into the higher steps. By that time, I was cashing for $10, $20, and even over $100 if I made it to the highest sit and go, which was a Step 5: $40 buy-in without a ticket.
After doing this for about a month, I was able to get my bankroll up to over $600. At this point, I started studying poker more, meeting poker players, and decided to take it seriously. I played and studied every day for a few months about bankroll management, MTT strategy, and sit and go strategy. After a few small deposits and the passing of the new year, I stopped looking for a job, as I was making enough playing poker to live on.
PocketFives: How do you select your hours to grind?
vegaslife: Most MTTs run between 5pm and 11pm, so basically I play three or four weeknights around that time and noon until midnight on the weekends unless I am playing live somewhere.
PocketFives: How do you pick what games or events you want to buy into?
vegaslife: Right now, my bankroll only allows between $80 and $120 worth of buy-ins for each site per day, so I'll play four or five smaller buy-ins on each Nevada site or a couple of bigger buy-ins if I had a really good week and my bills are paid up. I'll play a few $100 buy-ins, as you have to take those shots.
PocketFives: Is there anyone who helped change how you approach the gameof poker?
vegaslife: I was able to meet up with a handful of players from this site who all are very solid players. One player for sure who helped me with some leaks was Michael Gatto (MDGPOKERon Ultimate Poker and wholefnshow on PocketFives).