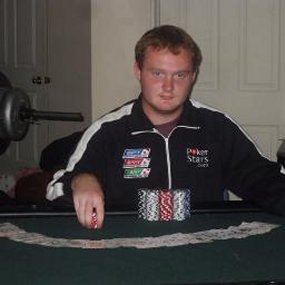 PocketFives had the opportunity to chat with Chris White (chriswhite on PocketFives, pictured), who built up a bankroll working at a local supermarket in order to be able to develop his skills in poker so that he could pursue the game professionally. He played weekly with friends and family in home games until he was old enough to test his skills at the casinos and now online in New Jersey.

With over $73,000 in tracked online cashes, some of his notable scores include a win in the PartyPoker$10,000 Guarantee, a second place in the 888 Poker$10,000 Weekly Sunday Guarantee, and a second place in the PartyPokerGSSS PLO $10,000 Guarantee for a total of $6,000. Visit PocketFives' New Jersey poker community for the latest news and discussion from New Jersey players.
PocketFives: When did you start playing poker and why was it appealing?
Chris White: I started playing poker in 2007 with friends and family and watched it on television. I thought that the fact you could make money without having a job and playing a card game sounded awesome.
PocketFives: Is there a meaning behind the screen names you grind under?

Chris White: Not really. I just thought "rumpthumper" was funny.
PocketFives: What's your favorite hand and why?
Chris White: I really like 10-8 of diamonds. I don't know why, but I always find an excuse to play it.
PocketFives: Since the launch of regulated online poker in New Jersey, what has been your most memorable cash or win?
Chris White: I came in second in the $10,000 Weekly Sunday Guarantee WSOP for $1,670 on November 2, 2015. That was a nice cash for me, but I'm still waiting for a big live or online payday.
PocketFives: Do you recall any big hands that helped you win or lose a tournament?
Chris White: Yeah, it was in the last PartyPoker GSSS Main Event. There were 18 left and I shoved 5-5 for a ton of chips on a 4-5-6 board and got called by 3-2. To this day, I'm still not sure if I should have shoved there.
PocketFives: How do you prepare yourself before a poker session?
Chris White: I like to read though hand histories and see how I played in my last session. I try to recognize mistakes I made and not repeat them.
PocketFives: Is there anyone or anything that helped change how you approach the game?
Chris White: Trying to play for a living really changed how I approach the game. It made it more of a grind and made me play a lot better
PocketFives: What do you do away from poker? What else interests you?

Chris White: I like to play a lot of video games and go out drinking with friends. I'm pretty lazy, so poker seems to be working for me at the moment.