Earlier this month, 204 people turned out for a $10,000 HORSE event at the World Series of Poker. In the end, it was Andrew Barber (pictured) defeating a final table that included two former Main Event winners for over a half-million dollars. We sat down with Barber to talk about his experience and his passion for charity.

PocketFives: Thank you for joining us. Tell us how you're feeling about winning your first bracelet.
Andrew Barber: I have been going to the Series for five summers now. As someone who plays small-stakes cash games in Northern California, a big part of my year is concentrated on the Series. I fired six or seven $10Ks this year. I always try to fire them every year and don't usually sell that much in advance.
I had a bunch of sweats over the summer. I had some cashes and painful exits. My main game is Omaha Hi/Lo, but I got 16th in a $3,000 HORSE event this year and lost a three-outer in another event, so I had gotten close already this year. I felt like I was due and finally just ran well in the right spots. It was one of the less tough final tables given the field and everything worked out in my favor.
PocketFives: The final table had former WSOP Main Event winners Joe Hachem (pictured) and Scotty Nguyenas well as 2010 WSOP Player of the Year Frank Kassela. Talk about that group.
Andrew Barber: All of them have their idiosyncrasies. Frank likes to play a lot of hands and was complaining about running badly. He loves to be involved in as many hands as possible. It amazes me that Scotty plays appearing to be drunk a lot of the time. I don't know how someone plays a $10K final table with beers constantly flowing. Hachem was a delight to play with. He's super friendly and a great ambassador.
PocketFives: We understand you're heavily into charity work. What charity do you support?
Andrew Barber: I tripped and fell into it. I'm a collector of books and got one called "The Most Good You Can Do." I was reading this book and the author laid out the argument for effective altruism, which basically says that if we accept value in helping other people, we should look to where we have the highest ROI. Poker players are very analytical and fiercely rational. This is the kind of audience that effective altruism is geared towards.
The charity I support is called Raising for Effective Giving, or REG. It was started last summer and has 160 members, including a lot of high rollers. REG is a meta-charity. They take donations and divert them to the charities deemed to be the most worthwhile. Research is constantly being done to determine where the best value is and where the most benefit is derived.
PocketFives: Talk about the card issues this year at the WSOP. Did you notice any markings?
Andrew Barber: The more experience you have playing poker and the more exposure to different cards you have, the more particular you become. I was blown away when Jesse Martin was able to call cards from across the table based on the markings. When I saw that, I thought we needed new setups all the time and asked other players not to squeeze. Thankfully, the WSOP brought in some good cards for the remainder of the Series for the bigger events.
PocketFives: What are your thoughts on the 2015 WSOP November Nine?
Andrew Barber: There seems to be a lot of excitement. There was an interesting dynamic towards the end of the tournament. It's interesting to see stalling become an issue too. There's a pay jump before the final table that's bigger than two pay jumps at the final table, so that affected things. There were some potential storylines that we're not going to see, but there are still some really great players and great people left.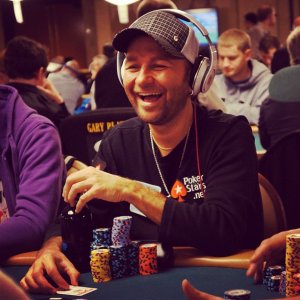 PocketFives: Were you pulling for Daniel Negreanu to make the November Nine?
Andrew Barber: For the first time in a while, people care about the sustainability of the game. For a number of years, poker for many people was just a money grab. I don't think casinos thought about rake. I think players thought the money was going to keep flowing.
As far as Negreanu (pictured) is concerned, having a well-known player at the final table would have been great for viewership. That translates to more players. A lot of poker players could care less if Negreanu made the final table, but they knew it would have been good for the game.
I'm worried that interest in the Main Event is waning as far as watching it on TV. People are only going to play what they're exposed to. If you're not going to have the media dollars coming in from online poker sites and you're not going to have poker shows on TV, there won't be a renewed interest in the game.
PocketFives: How did you get started in poker?
Andrew Barber: I was an engineer. I went to Cornell, which is where I learned how to play poker. Cornell produced a lot of players like Brian Hastings. I became an engineer, went home, and grinded sit and gos. I got an engineering job in 2007 in California and kept it for five months before I was laid off.
I felt like my hand was forced and so got into poker. I grinded full-time from 2008 to now. During that time, I was intellectually bored with poker and so wanted to go back to school. I decided to start auditing Economics classes and loved it, so I'm starting an Economics PhD program at UC Santa Cruz.
During the time I was playing, I played a variety of disciplines like sit and gos, Omaha Hi-Lo, and cash games. I was playing the highest stakes Omaha Hi-Lo that was available and also played the $75-$150 game at the WSOP.
PocketFives: What are your thoughts regarding the mark-up offered by players?
Andrew Barber: People have been selling at an arbitrary mark-up for a long time. They haven't adjusted based on the types of tournaments they're playing or the changing player pool. Players are getting better, but mark-ups aren't changing. Players are also going to an auction style. What you're seeing is a combination of those things; people buying shares are overpaying for them. It's like how the used car market used to be.
I always try to educate people. For example, Ben Yu fires everything over the summer, but he sells at a fair mark-up. I see players selling at 1.2 or 1.3 capitalizing on a score they had. I would love to short against everyone selling in the Main Event at 1.4 or 1.5.
Want the latest poker headlines and interviews? Follow PocketFives on Twitterand Like PocketFives on Facebook.