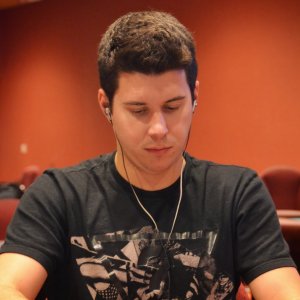 It's hard to believe that we'll have a winner in the 2015 World Series of Poker Main Event in just two short months. New Jersey's Joshua asdf26Beckley (pictured) holds the seventh largest stack in the tournament. His total lifetime live winnings heading into the Main Event were just north of $200,000 and he's making his first WSOP final table. He has been a staple of our New Jersey poker community.

PocketFives: We understand you're in Florida. Tell us what you're doing there.
Josh Beckley: I am not playing poker, really. I'm taking a little break. I'm eating right and working out, trying to prep my mind and body for the Main Event. I'll have better endurance at the tables and will be sharper. I'm eating cleaner too, so I won't be fatigued.
PocketFives: How much do you think playing regularly online in New Jersey has helped you with this deep run?
Josh Beckley: Online poker doesn't help that much because the structure is different. What have helped are the Parx Casino live tournaments. I would go up there for the deep stacks tournaments; they have the best structures. I played $5/$10 PLO cash a few times a week as well.
PocketFives: What is the biggest adversity you have faced recently in your poker career?
Josh Beckley: I'm growing every time I play. This year's WSOP was my first time in Las Vegas, so that whole experience brought my game to the next level. I played almost every day, took a week break, and then came back for the Main Event. I was rested and had learned so much.
PocketFives: What did you think of Las Vegas?
Josh Beckley: I loved it. I felt alive with all of the poker going on. I liked the really hot weather too. I liked laying at the pool. I'll try to go back out more often in the future. I'll definitely be there for next year's WSOP.
PocketFives: How have you spent the time between July and now? Have you played a lot of poker?
Josh Beckley: No, not much poker. I have been relaxing and doing whatever. I came down to Florida for the Hollywood Poker Open and that might have been it tournament-wise so far. I can carry all of the summer knowledge over to November. It's always there in my mind, but I needed a break after July. I'm beginning to want to play again and there will be a WSOP Circuit Event down here soon, so I'll go test how I'm doing. I'm playing a little bit online too.
PocketFives: We understand you're starting to stream on Twitch.
Josh Beckley: Twitch allows me to get out to the fans and it's a good platform. I've been playing online with shorter blind structures and it's really different than the Main Event, so I'm not worried about exposing any strategies by playing on Twitch. I play both games totally differently.
The Main Event final table will be unlike any other poker tournament. You can't compare it because of the pressure and I'll be using live reads too. Online poker is mostly odds and shoving and hoping your hand holds up. It won't be like that in the Main Event. I think people there will be tighter.
PocketFives: Have you been playing a lot of sit and gos?
Josh Beckley: I wish there were sit and gos online. None of them fill up. For some reason, there's not enough traffic.
PocketFives: Have you hired any consultants, psychological, strategical, or otherwise, to prep you for the tournament?
Josh Beckley: Not yet, but no matter how good you are, having a coach helps you. Asking questions and going over things would benefit me. I can go over hand histories and certain situations that come up.
PocketFives: What are your thoughts on the November Nine format?
Josh Beckley: I like the waiting period because it's needed for filming and showing the Main Event on television. It's good for the sport for it to be filmed and edited correctly. I benefit because I can relax and prepare really hard for it. I can also get sponsored. I would have been really tired if we played it out in July, but would have done okay. I was playing optimally the whole time.
PocketFives: What do you think it'll be like playing in front of several thousand people in the Penn and Teller Theater?
Josh Beckley: I was at the featured table for a couple of days. I was also on "Poker Night in America," so I am used to the cameras. The cheering will be something new, however, but I'll have friends and family there. I will have my parents in the front row to help me.
PocketFives: What was the November Nine bubble like?
Josh Beckley: It was pretty incredible. It was so crazy. I didn't really realize what happened at first. I desensitized myself as to what was going on because the pay jumps were so big. I was focusing on playing regular poker and not considering anything else. I was in shock for sure, but it felt good because I knew I made it.
PocketFives: Do you have any plans for the Main Event money?
Josh Beckley: I bought a new car: a 2015 BMW 328. I have a place in Florida for a couple of months too. I was living with my parents before and will move out. Maybe I'll take a vacation, but a house and a car are fine with me.
PocketFives: How do you feel you'd be as an ambassador for poker if you won the Main Event? Is this needed from a Main Event winner?
Josh Beckley: I don't think the winner has to be a good ambassador, but it's good for the game if they are and I think I would be a good one. I think I could promote the game well and put out a good image for it. It's about not doing anything negative and trying to get more people out to poker games.
PocketFives: Talk about Joe dude904McKeehen (pictured), who is another East Coast PocketFiver and has a commanding chip lead in the Main Event entering the November Nine.
Josh Beckley: His play was pretty good. He doubled up through me on Day 6 for his tournament life with AQ versus my AK. I'm still in the tournament, so that was okay I guess. I think he'll be aggressive and he's on my left, so I'll have to notice how aggressive he's being and find out what his range is. We hung out a little at Hard Rock Hollywood and did "Poker Night in America" together.