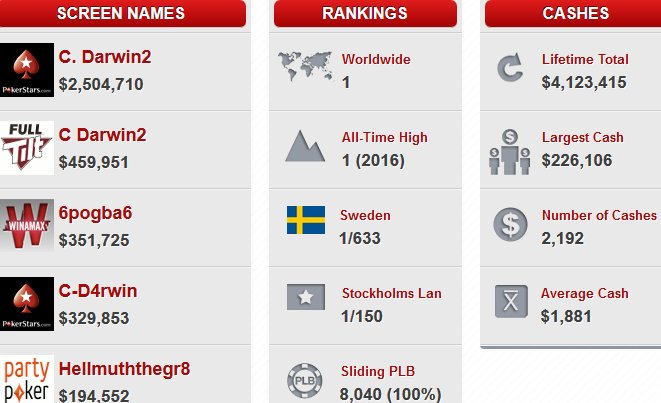 It took all of one week for Sweden's 'C Darwin2' to retake the top spot in the PocketFives Online Poker Rankings. After a one-week reign at #1 by Brazil's 'joaosimaobh', the title of top online poker player in the world went back across the Atlantic to Sweden.

This is 'C Darwin2's' third stint at #1. He ruled the roost for seven weeks ending March 30. Then, fellow Swede 'lena900' was the #1 player in the world for a month. 'C Darwin2' then regained the title from April 27 to May 4 before the Brazilian was #1 last week.
'C Darwin2', who moved up four spots this week, is three days removed from winning the high-stakes kickoff event of the PokerStars Spring Championship of Online Poker. He took down a $1,050 No Limit Hold'em tournament and earned $226,000.
As a result of his SCOOP victory, 'C Darwin2' is officially over $4 million in career online tournament winnings and over $2.5 million on PokerStars. He has a PLB score of 8,039 points and leads the second-ranked 'joaosimaobh' by 156.
There were two new entrants into the top 10 worldwide, and one of them is the most decorated player in online poker history. Chris 'moorman1' Moorman moved up two spots to #9. He was last ranked #1 two years ago and won the Extreme Tuesday last week for $10,000. This Tuesday, he took down the PokerStars Big $162 for $4,800.

Moorman has a blistering 786 top-three finishes in online MTTs and sits at $13.3 million in career online tournament scores, over $4 million more than the next closest person. This is his first week in the top 10 in 25 months.
"It's great to be back in the top 10 again after putting in some volume lately, but I'm really shooting to get back to the #1 spot if I can put together a huge SCOOP," Moorman said. "I've already made a couple of big runs and have been putting a ton of work into my game recently, so I'm feeling very confident right now."
Conor '1_conor_b_1' Beresford also entered the top 10 this week. He's at #10 in the world, his highest ranking ever, and was up seven spots thanks to a win in the partypoker Super High Roller three days ago for $64,000 and almost 500 PLB Points. One day before that, Beresford won the partypoker High Roller and banked $11,000. Beresford is the second-ranked player in the UK and #1 in his home city of York, England.
Canada's Jimmy 'JMolloy' Molloy moved up eight places this week to land at #11, three off his all-time best. Molly finished second in a SCOOP $700 No Limit Hold'em Rebuy on Monday for almost $100,000. That score, his largest ever, also boosted his PLB tally by 550 points. You can find him on PokerStars, where he has over $4.5 million in career winnings, under the user name 'Jays94'.
"It feels really good," Molloy said. "Hopefully I can crack the top 10 soon enough. It also feels good to get my first six-figure score in the $700 Rebuy SCOOP event. Although it was technically a few dollars short of that, I'm going to count it as one anyways."
Russia's Anton 'aJarov' Yakuba moved up 38 places to #25 in the world after a blockbuster week in which he finished second in a $320 No Limit Hold'em Six-Max on PokerStars and won the Black Chip Sunday Special, PokerStars $12,000 Guarantee, Black Chip $4,000 Guarantee, and an iPOPS event. Those resulted in his third career PocketFives Triple Crown and propelled him to within four spots of his best ranking ever, which was set last year.
Also trending towards #1 in a big way was Finland's Tomi 'emeriaa' Brouk, who was up 55 spots to #32. The top-ranked Fin has four five-figure scores already this month after wins in the 888 Crocodile, PokerStars Super Sized Sunday, and partypoker High Roller. He also final tabled the Sunday 500 this month for $15,000. Brouk is quickly closing in on $5 million in career online tournament winnings.
Rafael 'GM_VALTER' Moraes reentered the top 10 at #36 and passed $4 million in career online winnings to boot. In the last week, he won a SCOOP $2,100 No Limit Hold'em event for $325,000 and a commanding 1,331 PLB Points. That score came just a month removed from a win in the Sunday 500.
Moraes is also fresh off finishing third in a €25,750 High Roller event during the European Poker Tour's Grand Final in Monaco last week. That cash netted him well over $600,000 and boosted him to #8 on Brazil's all-time money list, according to the Hendon Mob.
This week's top 10:
C Darwin2 – 8,039 points
joaosimaobh – 7,883 points
Ariados – 7,200 points
lena900 – 7,146 points
veeea – 6,858 points
Big Huni – 6,824 points
jbrown8777 – 6,807 points
hellohellohello – 6,752 points
moorman1 – 6,707 points
1_conor_b_1 – 6,702 points