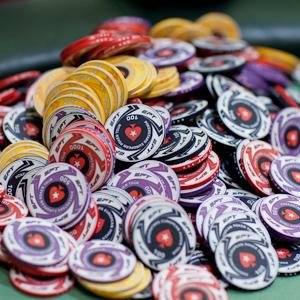 Relatively unknown high-stakes poker player JayP-AA has been dominating the competition at the Pot Limit Omaha tables on PokerStars, raking in almost $800,000 this year.

JayP-AA, whose real name is unknown, has had an online poker presence since 2007, when he won $32 in a $3.30 NLHE Rebuy. It wasn't until June 2011 that he created a PocketFives profile under the name jcp, setting his location as Sughd, Tajikistan – about as far from Vegas as one can be.
The anonymous grinder left a trail of modest tournament cashes in his wake until banking $107,856 for his second place finish in the Sunday Warm-Up in April 2011. Incidentally, it was around this time that JayP-AA was first spotted at the high-stakes tables on PokerStars.
In his first few sessions of PLO in April 2011, the up-and-coming pro went on a heater, pocketing $349,000 at his peak, according to HighStakesDB. It wouldn't last long, though; before the end of the month, he had lost all but $67,000 of his original six-figure score.
JayP-AA continued playing on Stars, eventually losing all of his initial big PLO win, and rode a wave of variance that usually ended up with the unknown pro back where he started. In October 2013, he clawed his way back up to a $165,000 profit, but eventually lost it all and then some. By December of last year, he hit the lowest point in his tracked high-stakes game play, posting an overall loss of $261,000.
But 2015 has been good to the mysterious grinder and his luck has again changed decidedly for the better. His rebound started with his profits bumping up to $44,500 in the middle of January, followed by an even bigger surge to $175,000 a week later. After a few more winning sessions, JayP-AA closed the month out with a $250,000 profit.
This month, the hot streak has remained in full effect, with JayP-AA dragging a couple of monster pots. On the third, the PLO specialist put jricardoscall-in on the river with a $39,000 bet and showed a full house to pick up a healthy $90,000 pot. Five days later, he battled with Ike Haxton (pictured), who launched a check-raise river bluff in a big pot only to be called and shown the nut flush to lose $123,000.
After reaching the $600,000 profit mark, JayP-AA took a couple of hits and was knocked back down to around $440,000. But this week, the heater was back in full swing, with the anonymous grinder banking $300,000 since Sunday for an all-time high of $799,000.
JayP-AA has often shared a table with 2015's biggest online money winner, Ilari Sahamies. The Finnish-born high-stakes pro is on an upswing of his own and recently broke the seven-figure mark in online cash games for the year. Other big winners include Crazy Elior, who ranks third on the money list with $349,000 in profits, and pro Scott Seiver, who occupies the fourth spot with $218,000 in winnings.
Amongst 2015's top 50 grinders, JayP-AA has played the most hands at 27,000, with Sahamies coming in next on the list with 24,000.
If history is any indicator, JayP-AA's hot streak could soon be negated by a downswing of equal or worse magnitude. It will be interesting to see if the anonymous grinder can make his current profits last.
Want the latest poker headlines and interviews? Follow PocketFives on Twitterand Like PocketFives on Facebook. You can also subscribe to our RSS feed.