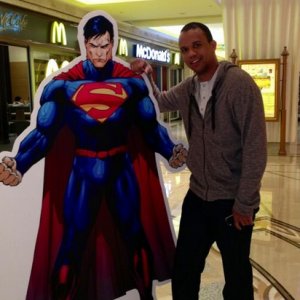 In the last 24 hours, Phil Ivey (pictured), who plays on Full Tiltunder the user name Polarizing, is up $700,000, according to HighStakesDB. Most of his damage was done at the 2-7 and Eight-Game tables in heads-up sessions against fellow high-stakes pro Alexander "PostflopAction" Kostritrsyn.

—
PocketFives' news coverage is brought to you by William Hill Poker, one of the largest skins on the iPoker Network. The poker room offers a generous welcome package including a 200% deposit bonus up to $2,000 and a superb VIP program. Visit William Hill today!
—
According to HighStakesDB, "His first win of the day came from an hour-long heads-up match played late in the afternoon server time at the $1.5K/$3K Mixed Game tables with PostflopAction. Polarizing lead from the start, ending the session up $74.8K."
After that, it was on to $2K/$4K 2-7 Triple Draw, where Ivey scooped another $44,300, according to the same tracking site. Then, Kostritrsyn and Ivey squared off at a $1K/$2K Mixed Game table, where HighStakesDB detailed that everything was coming up Ivey: "In a little under an hour, the 10-time WSOP bracelet winner had added another $188.4K to his bankroll. He also took down the day's biggest pot during the session," which was worth $80,000.
Ivey ended up a little over $300,000 before coming back for more on Wednesday night, ending up $700,000 in the span of 24 hours.
It wasn't like Ivey was going against creampuffs at the table, either. HighStakesDB said of his final session of the night, "Polarizing's next session netted him another $157K, as he took on November's biggest winner so far, Cort thecortster Kibler-Melby, again at the $2K/$4K 2-7 Triple Draw tables. The match lasted just under an hour-and-a-half and, for the first hour, the match was even. However, the last 20 minutes saw Ivey rush to a $156.9K win."
The joys of high-stakes poker.
HighStakesDB began following Ivey under his Polarizing screen name in the final month of 2012. Since then, he has bled $5 million total and enjoyed a profit just once over that span. He is down $1.7 million in Draw Games and $1.6 million at Eight-Game. The only variant HighStakesDB tracks that the 10-time bracelet winner has turned a profit in is Limit Omaha High-Low, where he's up $17,000.
Want the latest poker headlines and interviews? Follow PocketFives on Twitterand Like PocketFives on Facebook. You can also subscribe to our RSS feed.