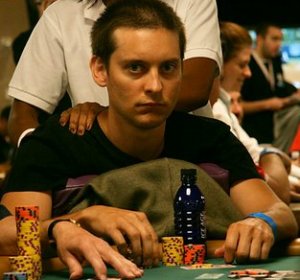 Bryan Zuriff, Executive Producer of the Showtime series "Ray Donovan," pleaded guilty last week for his role in running an illegal gambling operation that seems plucked straight from a Hollywood movie script. Zuriff, 44, became the first casualty of an investigation that has spanned two coasts, saw 34 people charged, and provided a rare peek into the private world of some of the world's wealthiest gamblers.

All of the characters are there: Russian mobsters, A-list actors, Wall Street billionaires, pro poker players, and scam artists. Then there is Molly Bloom, a 35-year-old dubbed the "Poker Princess" who allegedly organized ultra-exclusive home games attended by the likes of Tobey Maguire (pictured), Leonardo DiCaprio, Alex Rodriguez, and Ben Affleck.
The high-stakes affairs were originally hosted at Maguire's house in the Hollywood Hills. But, the "Spiderman" star, who is said to be a very private person, grew tired of the motley crew of poker players coming and going and decided to move the game to a more neutral location.
That's when Bloom got her first taste of the celebrity poker world. Working as an assistant to real estate investor Darin Feinstein, she was tasked with organizing the game in the basement of LA's infamous Viper Room, where Feinstein was part-owner.
She took to the job quite well, eventually opting for more luxurious digs at spots like the Four Seasons, Peninsula, and Plaza Hotel. Here, the "Poker Princess" took care of everything: professional dealers dealt on custom, full-sized poker tables; players ordered filet mignon from private chefs; and drinks were poured by hand-picked models.
The lineup usually varied, but there was always plenty of cash at the table. The minimum buy-in was said to be $100,000 and pots routinely soared into the mid-six-figures. Maguire was one of the regulars and, by all accounts, one of the better players in the game. Professional poker player Dan Bilzerian didn't have much praise for his playing style, though, telling Radar Online, "He's cheap as f**k and plays like a cheap b*tch… A guy who's worth all that money playing as if he's broke. Come on, dude."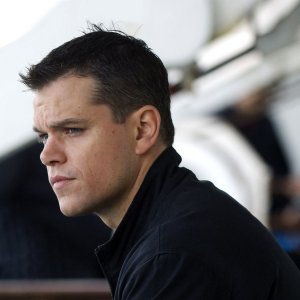 "Rounders" star Matt Damon (pictured) stopped by a few times, reportedly losing $25,000 in a sitting and not taking it well. Joe Francis of "Girls Gone Wild" fame was apparently so bad that he had to ask a question about the rules in the middle of a hand.
If your bankroll was big enough and you knew the right people, you could get in. Everyone from Phil Ivey to "Simpsons" voice actor Hank Azaria were said to have participated. But, some of the guests weren't exactly what they seemed, like investment banker Brad Ruderman. The financial guru was the perfect mark for the Hollywood sharks; he seemed to have an endless stream of money and would go on to lose millions at the private games.
One of the main beneficiaries of the dead money was Maguire, who took the Wall Street millionaire for upwards of $300,000. What the regulars didn't know was that Ruderman was playing with stolen money. He was eventually convicted of running a massive Ponzi scheme and sentenced to 10 years in Federal prison. When Ruderman's creditors found out he had been burning money at the poker table, their lawyers went after the players who had profited. Maguire ended up settling for $80,000.
For her services, Bloom was paid handsomely. Some nights, she could make as much as $30,000 in tips from her wealthy clients. "She was aggressive about maximizing her personal earnings from the games," one player told NYMag. "She would be forthright in letting players know what she expected in terms of tips."
Eventually, Bloom decided to take her talents to New York, but quickly found out that games like the ones she helped put together in LA were a rarity. She became increasingly involved with a slew of characters with underworld ties like Illya Trincher (pictured), a Russian-American poker player who is allegedly connected to the Russian Mob and was also charged alongside Bloom.
The atmosphere in New York proved hostile. At one point, the "Poker Princess" was even "roughed up" by two "Eastern European thugs," according to her lawyer Ronald Richards. After breaking into her Upper West Side apartment, the men tried to "get some money from her… They pushed her around a little bit."
In the end, the whole operation came crashing down. Bloom now faces charges of running an illegal gambling business, which could put her behind bars for 10 years. After Bloom turned herself in, one of her attorneys told reporters, "She has no intention of minimizing the case against her, but hopefully prosecutors understand that even some of our Supreme Court justices enjoy a weekly poker game."
Meanwhile, Bloom has spent her time writing a tell-all memoir to be published in 2014 by HarperCollins. There is no doubt that many people in Hollywood are quite nervous about what revelations it will bring.
Want the latest poker headlines and interviews? Follow PocketFives on Twitterand Like PocketFives on Facebook. You can also subscribe to our RSS feed.