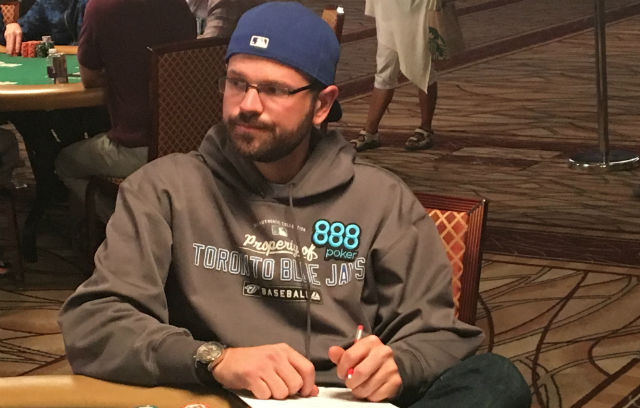 It's almost here. You have made it through the first five steps of the 888poker World Series of Poker Main Eventqualifying stages. All that is standing between you and the chance to play for a Main Event seat is $160 a field of competitors hungry to make to Las Vegas.
Sound intimidating? Not to worry. Last year, Griffin Benger started his Main Event journey at this step and walked out of the Rio last November over $1,250,000 richer as a result. Could you be on your way to joining Benger and possibly exceeding his feat? All it takes is one click to find out.

---
---
For players who have made the climb up the ladder to make it this far, there is the case to made for fear of losing and having to restart the climb. Lucky for those players, former November Niner and 888poker team pro Bruno Politano has some positive advice to share.
"Don't give up! There are lots of cases of success where the players tried four or five times and got it the package. This is a very good strategy for these players to believe and trust in your potential and continue trying Focus and persistence are the keys to success."
One out of every, approximately, seven entrants into Step 6 will earn a seat in the $1,050 mega satellite, which will result in at least one player earning a seat at the 2017 World Series of Poker Main Event seat.
888poker team pro Dominik Nitsche has already qualified for the Main Event through 888poker and says he wishes he "could play every day" noting the high equity value of the seats. Unfortunately, 888poker does not allow for players to earn multiple seats, which Nitsche thinks is a positive as it would take away the opportunity from many recreational players.
Nitsche points out that players who have qualified for the later steps should play them closer to the Main Event as by then, many of the professionals will have already won a seat, therefore making the fields not as arduous to fight through.
Regardless, there is tremendous value in being able to earn a $10,000 seat for barely over one percent of the initial price.
As we have learned through the opening five pieces in this series, most professionals recommend allocating four or five buy-ins for every step and to be aware of all stacks when on the bubble. It's not about winning the tournament, but not losing the seat. Like Parker 'tonkaaaa' Talbot says, "shove wide and call tight."
---
---
Now that you have all the tools required to succeed in the 888poker satellite series, we hope to see one of you win a seat to the Main Event and maybe even reach the November Nine.
Need any more convincing to try 888poker's satellite steps? Let Kara Scott explain.
"Players have a chance to climb their way up the steps satellite structure and try to earn tickets to the higher buy-in satellites, running a couple times a week, where they can win a package to the Main Event or 888 Side Event and potentially win HUGE."