Last month, David Quang (pictured), who goes by d.quangon PocketFives, took down the PokerStars Carnival of Tournaments Big $109 for $26,700 after a heads-up chop and earned 437 PLB Points. It was his third largest score to date, trailing two Super Tuesday final tables in back-to-back months last year.

—
Follow professional sports tipsters, make your own betting tips, and compete for real cash prizes. Tipdayis the ultimate sports tipping resource. Check it out.

—
"The early stages of this Carnival tournament were somewhat the same as a normal daily Big in terms of the level of difficulty," Quang told PocketFives in an exclusive interview. "The field got a little tougher as it progressed, but I'd still say it was softer than a normal daily Big, maybe because a lot of the regs were on EPT circuits or at Borgata, but I can't complain. Overall, it was a great turnout and I'm excited to continue playing every Big."
The tournament drew nearly 2,000 players at $109 a pop and featured four PocketFivers in the top seven spots. "The opponent I chopped with, Bayleysa, gave me the hardest time. I think he mentioned he was a sit and go player, so he had an idea of short-stack shoving and calling ranges. He also had a lot of chips, but I had position, so I was trying to put pressure on him a lot of the time."
He added, "Before the final table, I was hanging by a thread for some time. I had less than 20 big blinds and was fortunate enough to pick up some hands and ran it up to about 50 big blinds to start the final table. The table had a lot of unknowns, so I was certainly happy about that." He ultimately chopped two ways, saying, "I'll probably reinvest that back into MTTs since the variance is ridiculous in them."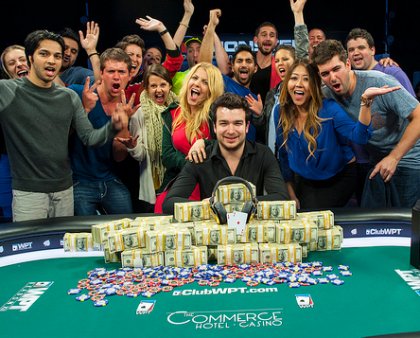 He has been a member of PocketFives since 2009 and nabbed his $2 million cash badgeon April 25. He was one of seven PocketFivers to accomplish that feat in the second half of the month. "It's definitely a great feeling," Quang said on getting to $2 million. "I'm catching up to you, Moorman!"
At this point in our conversation, Quang said Chris moorman1 Moorman (pictured), the most successful PocketFiver in history with $11.1 million in online earnings, was his idol. We weren't sure if he was being facetious or serious, so he followed that up by saying, "Chris knows how play the manipulative and optimal ways very effectively. He's very good at adapting to his opponents, which is key to winning online poker tournaments."
Quang now has his sights set on Las Vegas for the 2014 WSOP, which begins at the end of May. He'll be in attendance starting in mid-June and plans to grind it out in Vancouver until then. "I am looking forward to the most prestigious tournament of them all: the WSOP Main Event," he said. "I'm 0/3 in it and still looking for a cash."
As he said, he is 0/3 in the Main Event and noted, "I need to learn to fold more. And I also need to get more sleep. The first two years, I probably had a VPIP of 30%. I was playing way too aggressively and just wanted to run down my starting table like it was the final table. That was probably due to the fact that I was running on just two hours of sleep. I wasn't on my game mentally."
He'll likely stay at the Rio, the host venue for the WSOP. Why? "My friends will probably have the Rio comped because they're degens, so I'll probably tag along with them to save myself some expenses." This marks the tenth year that the off-Strip Rio has hosted the annual poker gathering after moving from Binion's in Downtown Las Vegas.
Speaking of moving, Quang recently relocated to Vancouver (pictured), where he enjoys exploring restaurants, running, and rooting for the far-away Toronto Raptors. He went to school in Waterloo, where he "met all of the prodigies, so that's probably why I got into poker. I chose Vancouver because I wanted a change of scenery and a new chapter in my life. Also, the online tournament schedule actually works as a 9-5 over here as opposed to a 12-8 in the Eastern Time Zone."
The Carnival of Tournaments and other poker series run regularly on PokerStars. If you don't already have a PokerStars account, sign up through the links on PocketFives and get a 100% up to $600 deposit bonus along with one free month of PocketFives Trainingwith no sign-up fee. Sign up here.
Want the latest poker headlines and interviews? Follow PocketFives on Twitterand Like PocketFives on Facebook. You can also subscribe to our RSS feed.