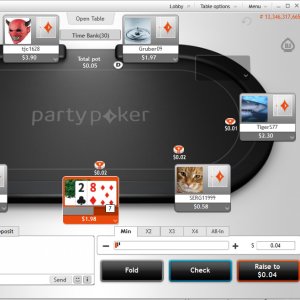 Just before the calendar rolled over to 2015, da Apetook down the PartyPoker $200,000 Guaranteed, outlasting a field of 969 entrants. The Thai player is up to almost three-quarters of a million dollars in tracked online MTT cashes and can be found at #378 worldwide in the PocketFives Rankings, his all-time high.

PocketFives: Congrats on the PartyPoker $200K win. How are you feeling about it?
da Ape: I have been waiting for a major win for some time now. I final tabled the Sunday Warm-Up twice and got one second place finish. I also final tabled the 888 Major three times since October, but didn't finish better than fifth. So, finally taking one down feels awesome.
PocketFives: Can you walk us through how the $200K went in general?
da Ape: I stacked up early and was among the top three stacks until the money. I had been running good, winning flips, and made huge bluffs in the right spots and they all went through. I kept playing really loosely and people definitely noticed that. That image helped me get paid with my big hands because people didn't believe me.
I got down from about 100 big blinds to 20 because I was pretty much card dead and people shoved into me. Then, I changed gears and slowed down. I chipped up over a couple of hands, won some flips, and had the chip lead for a while. But, I lost part of it and they moved a good player to my left.
I managed to reach the final table with a decent stack. I had been really card dead and folded a lot. I was the short stack at some point, but kept calm. Then, I doubled up twice with Q-Q and became the chip leader again. I started to play super aggressively again, 3betting a lot, pressuring the medium stacks, and so on. It all worked quite well and I ran over the final table after two double-ups.
PocketFives: Do you have any plans for the money?
da Ape: I'm planning a holiday with my girlfriend and parents in February. I always have a good time here in Thailand, so it's nice to know I have a backup. I won't change my average buy-in though.
PocketFives: Tell us about poker in Thailand. How is the game viewed and who plays?
da Ape: I don't talk much about my poker play here. Nobody needs to know how much money you have or win. I try to say I just work on the internet. The game is viewed as gambling by everyone.
PocketFives: Do your family and friends know you play? What do they think?
da Ape: Yep, they know and they are happy I can make a living with it. A couple of years ago, they were worried because I played a lot and didn't make that much money. However, for the last two years, I have played professionally. It seems to be working out and they notice that.
PocketFives: How did you get started in poker originally?
da Ape: Home games. I always was the guy who hated poker and didn't want to play with my friends. Then, I tried it and wanted to learn it.
PocketFives: What do you do away from poker? What else interests you?
da Ape: Football. I watch and play twice a week here. Also, during the holidays in Asia, I am basically chilling and enjoying my time as a poker player.
If you don't already have a PartyPoker account, sign up through the links on PocketFives and make a deposit to get one free month of Tournament Poker Edge or CardRunners training if you live in the UK, Canada, or Australia. Get started here.