When play resumed on Wednesday in the $50,000 Poker Player's Championship at the 2012 World Series of Poker (WSOP), none other than high-stakes cash game guru Viktor Isildur1Blom (pictured) stood atop the leaderboard with a stack of 1.26 million, one of only four players of the final 26 to cross into seven-figures. Winning his first gold bracelet in such a storied event could be a major upset, especially if you consider that, according to Daniel Negreanu, Blom is green when it comes to Stud games.

HogWild Poker, a free, U.S.-friendly online poker site, makes PocketFives' WSOP coverage possible. The site is staking 10 players with $500 buy-ins to live events at casino tournaments of their choice every month. On top of that, each month, HogWild is throwing in a $2,000 staking package to a WSOP Circuit Main Event. Sign up for HogWild Poker for free today by clicking here. U.S. players are welcome.
Negreanu, a PokerStars sponsored pro, poster on Twitter, "A week ago, Viktor Blom didn't know how many cards you get in Razz, and now he is among the chip leaders in the $50k. Sounds about right." Negreanu added, "I explained to Viktor how Stud games are dealt and when I told him the last card is down, he says, 'Oh wow that's so cool.' Can't make this up."
"That's so cool" indeed.
At the time of writing, Blom, a Swede, had slipped to third in chips in the $50,000 Poker Player's Championship with 22 players remaining. His best finish in a WSOP event came in 2010 in the WSOP Europe Main Event, where he bowed out in 16th place for over $50,000. Blom is a scant 21 years of age.
In the early going on Wednesday, PocketFives member Chris SLOPPYKLODKlodnicki (pictured) temporarily claimed the overall chip lead after showing just a pair of fours on a board of A-10-8-5-4 with two clubs and two spades during Pot Limit Omaha. Klodnicki rolled over Kd-Qd-9c-4c for the rivered pair against John "World" Hennigan.
Coverage found on WSOP.com detailed, "Hennigan mucked his cards and the table was stunned by what just happened in this massive pot. Klodnicki grabs the chip lead, while Hennigan is knocked far down." Klodnicki shot up to 1.38 million in chips and, at the time of writing, sits in second place behind David Oppenheim.
Klodnicki Tweeted, "Day 4 of 50K. First hand I win a massive PLO pot with a pair of 4s. I am now the chip leader… Planned on shoving river but couldn't pull the trigger right away. Very lucky to win the hand."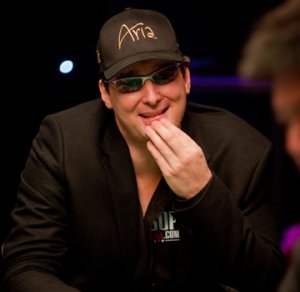 Twelve-time bracelet winner Phil Hellmuth (pictured), who was gunning for a record-setting 13th WSOP victory in this event, hit the rail on Wednesday despite doubling up through former World Poker Tour champ Daniel Alaei. Hellmuth's chips hit the middle on a board of 8-Q-3 during Pot Limit Omaha, with Hellmuth showing Qd-Qc-9c-6h for three queens. Alaei turned over Qs-10s-10h-5s for a pair. The "Poker Brat's" hand held on and he doubled up.
Then, Hellmuth's chips once again hit the middle, this time with Ad-Kc-9d-8d on a flop of 7-6-4, rainbow. He was up against Oppenheim, who showed 7s-6s-5d-2d. A 5 on the turn gave Hellmuth the nut straight, but a 7 on the river improved Oppenheim to a full house. Hellmuth Tweeted his untimely demise: "Out, Ouch! Tripled up, then played 160K pot, turned nut str8, but lost to a house on river. TY to all of my fans + followers for support!"
Here's how the final 22 players stack up at the time of writing:
1. David Oppenheim – 1,410,000
2. Chris SLOPPYKLODKlodnicki – 1,385,000
3. Viktor Isildur1Blom – 1,120,000
4. Daniel Alaei – 1,058,000
5. Mike Wattel – 1,025,000
6. David "ODB" Baker – 1,025,000
7. Bill Chen – 984,000
8. Luke FullFlush1Schwartz – 960,000
9. Stephen stevie444 Chidwick – 855,000
10. Michael Mizrachi – 820,000
11. Ben Yu – 785,000
12. Bruno Fitoussi – 752,000
13. Andy Bloch – 667,000
14. Roland Israelashvili – 570,000
15. John Monnette – 495,000
16. Phil Ivey – 397,000
17. Brett Richey – 355,000
18. Jeffrey Lisandro – 320,000
19. Robert Mizrachi – 315,000
20. John Hennigan – 260,000
21. Joe Cassidy – 150,000
22. Lyle Berman – 80,000
Stay tuned to PocketFives for the latest WSOP coverage of online poker players.