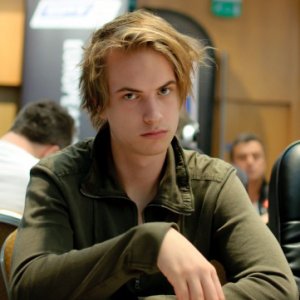 In October, Viktor Isildur1 Blom and Gus Hansen parted ways with Full Tilt Poker, ending the re-launched site's experiment with sponsored pros. Full Tilt officials announced at the time, "We can confirm that Full Tilt's sponsorship of Viktor Blom (pictured) and Gus Hansen has expired. This follows a year-long review of the Full Tilt brand and a decision to move away from Pro-centric advertising to focus on the experiences and stories of the vast majority of our players… We would like to wish Viktor and Gus all the best in their future endeavors."

Two months later, Blom returned to Full Tilt, according to HighStakesDB, where he recorded a profit of $204,000 at the 2-7 Triple Draw tables on Monday. His first session, according to the tracking site, was against Cort "thecortster" Kibler-Melby, who donated almost $20,000 to the Swede. Then, Blom took another $24,000 off bbvisbadforme.
Most of Blom's damage on Monday was done to SanIker. As HighStakesDB narrated, "Isildur1 took on SanIker starting at the $500/$1,000 limit, winning $22.7k in two hours before moving to the $1k/$2k tables, where he won $111.5k in a little under two hours, and finally graduating to the $1,500/$3,000 tables, where he added a further $57k in just ten minutes."
The first time Blom was seen at Full Tilt following his departure in October was December 5, when he recorded a profit of almost $100,000.
Blom shed Monday's winnings, and then some, on Tuesday before turning in a slightly profitable session on Wednesday. All told, it seems safe to say that Blom is back at Full Tilt and we can look forward to more exciting sessions down the road.
In total, HighStakesDB has logged 1.1 million hands for Blom since October 2009. Over that five-year period, he has bled $3.2 million. Blom is down almost $4 million in PLO, but is up $3.5 million in Draw Games.
There were rumors last month that Blom was signing with Unibet, but those have yet to pan out.
Want the latest poker headlines and interviews? Follow PocketFives on Twitterand Like PocketFives on Facebook. You can also subscribe to our RSS feed.