While Sheldon Adelson is right in the thick of his anti-internet gambling crusade, one of his Las Vegas Sands Board members has been busy buying up a massive stake in an online gaming giant. Jason Ader, founder of the investment firm SpringOwl, has acquired a 6.1% share of bwin.party, giving him a controlling interest in the London Stock Exchange-traded business.

"I gave him the heads-up," Ader said in an article in the Las Vegas Review-Journal, referring to Adelson. "He always agrees to disagree and that's why he likes having independent voices on his Board. I never would have made the investment without him knowing."
Company founders Ruth and Russell DeLeon sold the bwin.party shares for around $100 million. The purchase allows Ader a seat on the gaming company's Board of Directors or the right to nominate someone in his place.
With SpringOwl, Ader has thrown his hat into the ring of Activist Investment, the process of buying a large portion of a public company's shares to obtain seats on the Board and to carry out major changes in the business. Ader, a former Bear Stearns gaming analyst, believes bwin.party is "undervalued and has been under-performing."
"There is a tremendous opportunity to improve in the online gaming space," Ader told the Nevada paper. "There are a lot of questions to be raised about accountability and management. I want to spend some time with the company and have a dialogue. The company truly is undervalued."
In New Jersey, bwin.party leads the nascent online gaming market and banked nearly half of the i-gaming revenue generated in February in the state. The company supplies the software platform for its land-based casino partner, Borgata, owned by Boyd Gaming, as well as PartyPoker. In Nevada, it has partnered with MGM Resorts and Boyd Gaming, but has yet to enter the market.
Ader says the US market is an extremely small facet of the company's business as a whole. The New York-based investor believes the "real growth" will be in the European markets, where the company has a well-recognized brand in part due to its former sponsorship of the Real Madrid football club.
For his part, Adelson is not likely to be happy with the news that one of his own is investing in an industry that the 80-year-old billionaire has taken such a strong stance against. Through intense lobbying efforts, Adelson and his Coalition to Stop Internet Gambling have recently persuaded Congressman Jason Chaffetz (R-Utah) and Senator Lindsey Graham (R-SC) to introduce twin bills that would effectively ban online gambling nationwide.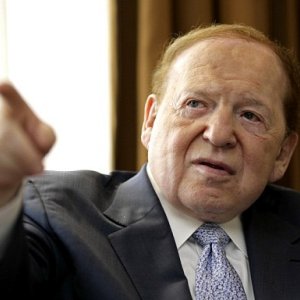 But while Adelson continues his anti-online gambling movement, Michael Leven, President of Las Vegas Sands, says that Ader can choose to invest however he sees fit. "He's free to do whatever he wants," said Leven. "We have a meeting in New York next week, but not about this."
With the deal complete, bwin.party's CEO Norbert Teufelberger is anxious for Ader to name his choice for the company's Board. "We urge him to tell us who his nominee is," Teufelberger told the Financial Times. "I don't get the feeling he's hostile or against me or my team. An activist shareholder makes us think about whether we have considered all possible avenues and we are extremely critical in assessing that."
Investors seem to warm to the idea of Ader joining the Board, as shares rose by around 6% upon the news of the acquisition. In the past year, the stock has fluctuated drastically, hitting a peak of 146.10 pence on May 16 and a low of 108.10 pence on September 2. Currently, shares are trading at 126 pence.
Want the latest poker headlines and interviews? Follow PocketFives on Twitterand Like PocketFives on Facebook. You can also subscribe to our RSS feed.