He might be a tad modest, but Rasmus Agerskov Larsen (pictured), known as RasAon PocketFives, won the PokerStars Sunday 500 outright for $68,000, defeating a group of 765 entrants. As he told us, "I'm feeling awesome about it. It's my favorite tournament of the regular Sunday Majors, so I am very happy I finally won it."

He's up to $1.9 million in online tournament winnings and could be found as high as #80 in the PocketFives Rankings two years ago; now, he's #192 in the world. Here's what the Denmark native had to say.
PocketFives: Nice job on the win! Can you walk us through how the tournament went in general?
Rasmus Agerskov Larsen: I came into the final table second or third in chips, but it didn't start out very well for me. I spewed away some chips in a mistimed 4bet bluff, which is kind of expensive in the later stages when stacks are shallower, so that decreased my possibilities a bit. When we got down to six players, I was one of the shortest stacks. I won a flip against gifuhorna with my A-8o against his 7-7 to help me out. He opened from the button, I jammed from the small blind, and, lucky for me, I got there.
Five-handed, I lost a big pot with A-Js versus K-Js, which could have put me in a favorable position with only four players left, but, I lost and was last again. I won a couple of good pots and eliminated the guy who came in fourth to give me a good chip lead, which made it easier to win a lot of pots three-ways. Heads-up, I had a 5:2 chip lead. I managed to throw that one away in the beginning, but fortunately it all went right in the end.
PocketFives: How have your friends and family reacted?
Rasmus Agerskov Larsen (pictured with crazy hair): My family and friends always react very nicely. I went to football practice the day after and my friends congratulated me. They all think it's awesome, which is very nice, but to be honest it is also a little awkward for me. I know it's a lot of money for most people, so to tell those who ask how much I won is not something I feel comfortable doing. To win the kind of money that some of us do in the poker world by sitting in front of our computer playing cards can seem a little unfair.
PocketFives: Any plans for the money?
Rasmus Agerskov Larsen: I don't have any special plans for the money. I'm off to London to play the EPT and the tours around it, so I'll have lots of possibilities to use some of it over there. So, most of it will go to my bankroll. I celebrate with friends when I get a big score like this too.
PocketFives: You have two huge scores so far this year between the Sunday 500 and a SCOOP $2,100 NLHE event. What has been going right?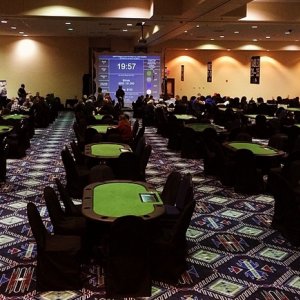 Rasmus Agerskov Larsen: I'm more motivated in these kinds of events. The Sunday 500 and the SCOOP events are deeper than most online tournaments, which make them more fun to play, in my opinion. Variance is also a reason. You have to run really well and avoid too many setups the wrong way in order to win a tournament. I feel my game has been very good as well. I have been making the right decisions, but that is also part of running well. When everything works out, you feel like you're playing awesomely. Sometimes it's difficult to tell whether you played really well or just ran like a god.
PocketFives: Talk about your live poker success so far.
Rasmus Agerskov Larsen: I've been playing most EPTs the last couple of years, WPTs in Europe, and also some smaller events from time to time. Live poker has been decent for me. I won a couple of tournaments and have had some decent cashes. But, it is very expensive to play all of the EPTs including a lot of side events, so you have to make some good scores to survive.
The WCOOP and other big-time tournament series take place on PokerStars. If you don't already have a PokerStars account, sign up through the links on PocketFives to get a 100% up to $600 deposit bonus and a free copy of Chris Moorman's "Moorman's Book of Poker" before October 29. Get started here.