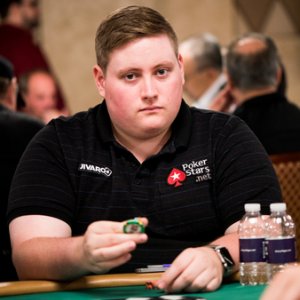 As PocketFives reported on Monday, Jaime Staples(pictured) finished fifth in the PokerStars Sunday Warm-Up and bagged $22,000. It was the largest online poker tournament cash PocketFives has tracked for Staples and, perhaps not surprisingly, he attracted a throng of 13,000 viewers on his Twitch channel to watch his run. Yes, 13,000.

According to PokerUpdate, Staples set his own record for the largest number of concurrent viewers. The site explained that Staples' run also meant big things for the poker industry in general: "During his Twitch broadcast, the game of poker temporarily jumped as high as the #5 spot of all video game categories on the live streaming platform… The PokerStaples channel was also ranked #5 among all Twitch casters for over an hour, including those who stream video game content."
Staples is a PokerStars Friend and has 47,000 followers on Twitch. He posted over on Twitter when all was said and done, "Thanks all for hanging out on my best Sunday. 5th for 22k and so close to glory. Thanks for the love #twitch #poker." He reportedly had two-thirds of his own action, which means he pocketed over $15,000.
Poker has exploded in popularity on Twitch, which has traditionally been used to live-stream video games. Now, poker stalwarts like Staples, Jason JCarverSomerville, and Daniel Negreanu have been streaming action on Twitch, roping new players into the game. Somerville has over 140,000 followers alone and was one of the pioneers of poker on Twitch.
Staples won the Big $109 twice earlier this year in back-to-back months, but perhaps more importantly, he has developed a rapport with fans of poker that is quite unique. Congrats to Staples on his big Sunday!
Want the latest poker headlines and interviews? Follow PocketFives on Twitterand Like PocketFives on Facebook.